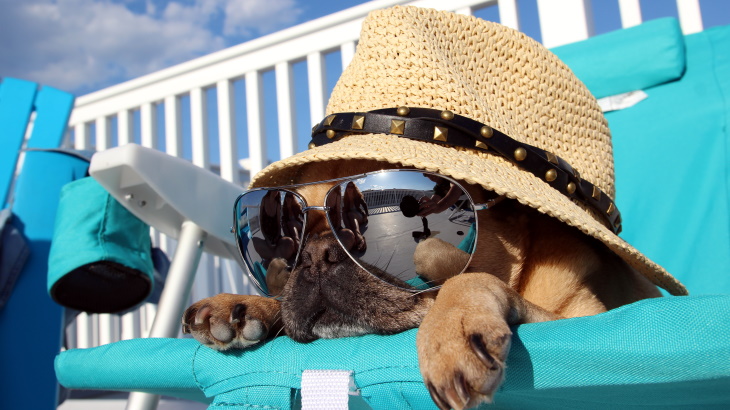 Easy Ways to Show Your Pet Some Extra Love
May is National Pet Month, and our luxury apartments in Lenexa want to celebrate your pet! We gathered our favorite ways to treat your pet, so you can make this May truly one to remember. So hit the paws button on your TV, and look at these purr-fect ways to spend time with your furry family member at The Villas at Waterside.
Use the Kitchen In Your Luxury Apartment Home to Bake DIY Dog Treats
Homemade dog treats are easy to make when you're baking them in the modern kitchens in our luxury apartments. You only need a few ingredients, too! Check out this ultra-easy dog treat recipe you can easily customize for your pup:
Preheat your oven to 350 degrees.
Mix 3 cups of all-purpose flour with 2 large eggs, and about ⅓ cup water to form a dough.
Dust your quartz countertop with flour and roll out your dough until it's about ¼ inch thick.
Use your favorite cookie cutter to cut out shapes.
Bake your treats for about 18 to 20 minutes, or until lightly brown.
Cool on a wire rack and store in an airtight container for two weeks.
The best part about this recipe is that you can add in about two tablespoons of one of the following ingredients to really make something delicious for your doggo:
100% pumpkin puree
Honey
Mashed banana
Mashed sweet potato
Xylitol-free peanut butter
While you can't bring your dog to our Chef's Kitchen, you can host 20 of your favorite friends and family members. This recipe makes 32 delicious dog treats. Invite your friends and family to our luxury apartments, and spend the morning or afternoon baking delightful dog treats and catching up on conversation while you clean up.

Spend the Day Out With Your Doggo, and Come Home to Our Paw Spa
Of course, you can always buy treats to celebrate your pup, too! Our luxury apartments are just a six-minute drive from Pet Supplies Plus in Lenexa. There, you can find everything you need to make your furry family member feel at home in our new apartment homes.
After you stock up, head out to the Shawnee Mission Park Off-Leash Dog Park. In only 12-minutes you and your bestie can run free and get muddy on the Shawnee Mission Park Dog Beach.
When you get back to your luxury apartment in Lenexa, you don't need to worry about four muddy paws all over your floor and furniture. The Villas at Waterside have a Paw Spa where you can wash your pup from head to tail, so you can keep your apartment squeaky clean.
Don't worry, if you just feel like staying home in your studio or one-bedroom apartment, you can spend quality-time with your dog in our private bark park. Let your dog stretch their legs off-leash, while you relax. They'll love you no matter where you are, as long as you're together.

Don't Forget to Celebrate Your Cat
Our pet-friendly apartments didn't forget about your fantastic feline! Thankfully, spoiling your cat isn't complicated. Here are some quick ideas to show your fur-baby some extra TLC during Pet Month:
Get a fun box from the craft store and snap a few pictures
Invest in a high-quality laser pointer
Try out a new toy or test out catnip
Pamper them with a massage mit
Pick out a posh kitty condo
After you're done showing your cat love and affection, why not treat yourself to a massage of your own in our day spa? Ask a member of our leasing team how you can melt stress away in our massage studio and get summer-ready with our tanning bed!
Sit, Stay, and Lease the Best Luxury Apartments In Lenexa!
You won't find any other apartments for rent in Lenexa that offer luxury like we do! Treat yourself to amenities like full-size washers and dryers, top-of-the-line appliances, and under-counter beverage coolers in every floor plan. Plus, the bark park and paw spa are perfect for your pup!
Are you ready to unleash the luxury life at The Villas at Waterside? Then call our leasing team at (913) 521-9550 or contact us online. We can't wait to show you your new apartment home!
A Little Information About the Pet-Policy for Our Luxury Apartments
The Villas at Waterside are premier pet-friendly apartments in Lenexa, and we welcome up to two pets in our new apartment homes. We understand your pet is an important part of your life, which is why we have zero breed-restrictions and allow dogs that weigh up to 85 pounds. Contact our leasing team for more information on pet fees and pet-rent.