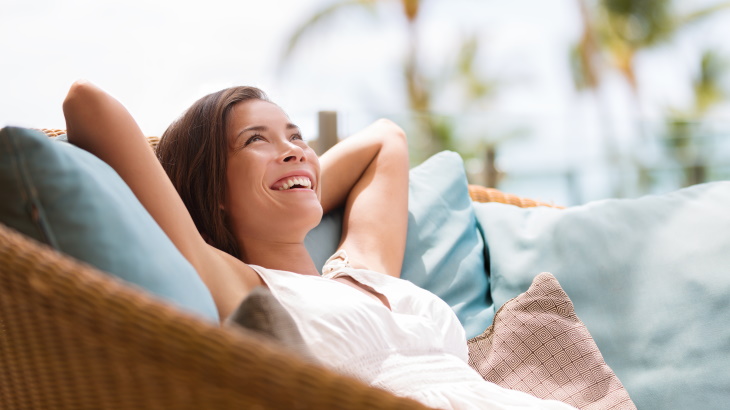 Keep Your Calm With These Amenities at The Villas at Waterside
Looking for a good way to relax can be exhausting – unless you live at The Villas at Waterside. Our luxury apartments in Lenexa have it all. Picture-perfect floor plans, the best location, and incredible amenities to help you relax and live the luxe life.
If the search for the best luxury apartments near you has you stressed out, then stay calm and look at the top amenities at The Villas at Waterside to help you live a cool and collected life.

Fresh Air and Hang-Time in Our Hammock Garden
When you're ready for some hang-time with your friends, step out of your new apartment home and into our hammock garden. Grab your favorite drink from the under-counter beverage cooler in your kitchen and get ready to relax outside.
Keep your calm growing with a casual walk through one of three stunning courtyards, where you can find green spaces that are just the right spot for a quick picnic.
The Villas at Waterside also have a gorgeous summer kitchen. Invite all your friends for a fantastic summer brunch, or plan something a little more romantic. Either way, you'll be making incredible memories.

Luxury Apartments With a Day Spa – and Paw Spa
When you've had your fill of files and meetings, it's time for a massage! Nothing provides a more calming and luxurious atmosphere like a day spa. That's why The Villas at Waterside made sure to include one when we designed the amenities for our new apartments for rent.
We have a massage room that has everything a professional masseuse needs to make you feel you're in your usual spa. The best part is that when your massage is over, you skip the stressful drive home and just walk back to your luxury apartment.
The Villas at Waterside are pet-friendly apartments, and would never forget about your pup! After a rowdy run in our bark park, don't break your back trying to bathe your dog in your bathroom. Instead, use our paw spa, where you'll find all the supplies you need to make your pal squeaky clean.

Spend Time in the Sun at Our Resort-Style Pool
Our resort-style swimming pool is perfect for the fitness-fanatic, but let's face it – it's also pretty good for leisure-lovers, too. When summer temperatures reach new heights in Kansas City, sink into our luxurious pool, and catch some shade in our private cabanas.
If soaking up rays is more your style, don't worry, our expansive sundeck is just the place to get your bronze on. You can even work on your tan before summer gets started with the tanning bed in our day spa.
Looking for something to heat up a chilly summer night? Take a dip in our elevated hot tub and melt the stress away!

Our Luxury Apartments in Lenexa Also Have Features for Fitness-Lovers
After a long day on the job, the last thing you want to do is spend 20 minutes in the car heading to the gym. Thank goodness you live in our luxury apartments at The Villas at Waterside, because we feature a top-of-the-line, 24-hour fitness center.
After you're done sweating out stress at the gym, pedal and stretch it away in our yoga and cycle studios.
Did you know our luxury apartments in Lenexa are also smart apartments? That means you can control aspects of your apartment with your smartphone, and access amenities like our gym at the touch of a button. All you need to do is head to the gym or one of our studios with your phone and start working out!

Work From Home Without Worries in Our Co-Working Space
We know there are many days when you can't spend hours relaxing, but that doesn't mean working-from-home has to be stressful. Our new apartments for rent are spacious and can accommodate a home office with room to spare. However, sometimes you just need a fresh perspective.
Change your point of view by working in our co-working space or fully equipped conference room. The Villas at Waterside even have a great hall with conversation nooks, which make the perfect place for a long phone conversation. Just make sure you stop by our coffee station to fuel up first!
We have high-speed internet throughout our amenities spaces, so you never have to worry about your connection. Just put in our Wi-Fi password, and get to work!
Ditch the Stress and Decompress at Our Luxury Apartments in Lenexa
The Villas at Waterside strive to make each day for our residents the best it can be! That's why we've included thoughtful apartment amenities in every floor plan and made our community amenities as opulent as possible.
From sleek and stylish apartments to our cold storage package room, we have you covered in our luxury apartments in Lenexa.
We have studios, two-, and one-bedroom apartments waiting for you! If you're ready to see your new apartment home, call our leasing team at (913) 521-9550 or send us a message online. We're open seven days a week for your convenience, so don't hesitate to schedule a tour of our luxury apartments on the weekends!