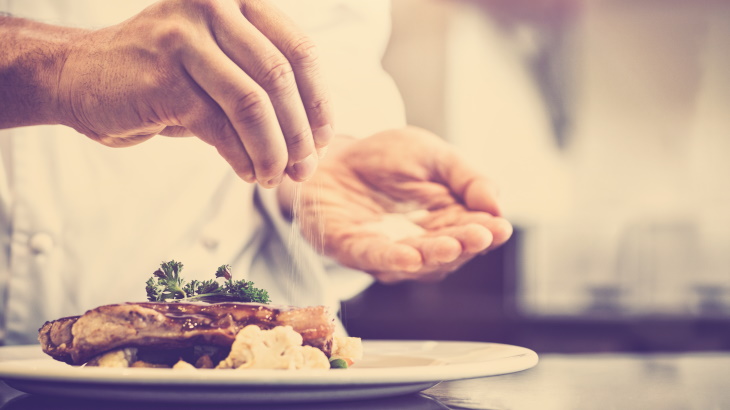 Impress Your Guests With Our Incredible Apartment Homes
Chef's Kitchens are the ultimate luxury for anyone who considers themselves a foodie. They have top-of-the-line appliances and an advanced kitchen design, which means creating a gourmet meal in our apartment homes is easier than ever.
If you've been living in apartments for rent that aren't as opulent as The Villas at Waterside, our Chef's Kitchen may seem a little intimidating. Don't worry, the amenities in our luxury apartments are for all our residents! Take a look at how you can use our chef's kitchen for an easy gourmet meal that looks like a professional prepared it.
Team Up and Create a Meal Together in Our Apartments for Rent
Our Chef's Kitchen has a lot of space and is perfect for a team cook. One aspiring chef can prepare vegetables, while another slices up meats and cheeses for a charcuterie board. There's also multiple cabinets and drawers to store and easily reach your cooking utensils.
The kitchens in our apartments for rent aren't short on luxuries, either. You'll find French door refrigerators with water and ice dispensers, an ample amount of kitchen counter space, and plenty of USB electrical outlets for any kind of countertop appliance you can think of.

Keep It Clean, So You Can Prepare Food Like a Professional
Nothing will slow down a chef more than a cluttered kitchen, even if it has a ton of space. When you're cooking a meal in our Chef's Kitchen, create empty areas where you can cut, chop, and mix freely. Additionally, keep the sink clear, because it's the most used kitchen workstation. You'll need room in the sink to rinse vegetables, prepare food like pasta, and stack used cookware.
The luxury apartments for rent at The Villas at Waterside have kitchens that are a cinch to clean. Easily wipe down quartz countertops and tile backsplashes with a multi-purpose cleaner of your choice, and store all your ingredients in large cabinets. Our floor plans even feature full-size washers and dryers, so you can wash off any mistakes as soon as they happen.

Turn Up the Heat in Our Luxury Apartments, and Get Familiar With a Gas Range
Professional-level cooking requires you to turn up the heat. That's why our Chef's Kitchen at The Villas at Waterside is equipped with a gas cook range, which means you can expect water to boil faster and searing meat to be a breeze. Our range also has a griddle to offer even more possibilities for the cuisine you can create.
The gourmet kitchens in our luxury apartments for rent have gorgeous glass cooktop electric ranges with overhead microwaves. We took the features in our apartment homes even further by including an under-counter beverage cooler in every kitchen.

Go For Quality Over Quantity With the Freshest Ingredients in Lenexa
When you're getting ready to create a gourmet meal inspired by world-renowned chefs, you need to work with the best ingredients. Instead of going with produce from your usual grocery store, opt for grade high-quality cuts of meat, fresh herbs and vegetables, and rich spices. This will improve the flavor of your meal and leave your guests wanting more until you create their next culinary adventure.
The Villas at Waterside are just a 10-minute drive from the Lenexa City Market, which opens on April 30th. Spend spring and summer weekends filling your kitchen with fresh ingredients from local vendors. Don't worry about buying too much to carry to your luxury apartment, because we have elevators that make lifting heavy loads easy.

Enough Seating Takes Your Cooking to the Next Level in Our Apartment Homes
How many times have you been to a friend's house for dinner and had to squeeze into a spot on the sofa? That's no way to enjoy a gourmet meal. In our Chef's Kitchen, there is plenty of space at the table for each of your guests. Feel free to experiment with seating, plating, and unique ways to serve your friends and family on our roomy island, complete with a built-in sink.
It doesn't matter if you rent one of our luxury studio apartments or a two-bedroom, you'll find all the room you need in apartment homes at The Villas at Waterside. From our luxe kitchens to our gorgeous bathrooms, you'll find something special everywhere you look!

Cook, Create, and Love Where You Live in Our Luxury Apartments for Rent
Did you know gourmet kitchens and Chef's Kitchens aren't the same? A gourmet kitchen is a personal kitchen filled with top-of-line appliances and ample space for you to cook up meals at home. A Chef's Kitchen is for impressing your guests with food, flare, and opulence.
There's great news! When you live in one of our luxury apartments for rent, you can have the best of both worlds. Don't just search for any 1-bedroom apartments near you. Instead, schedule a tour of the best apartments in Kansas City and see what luxury looks like for yourself.

Visit the Villas at Waterside
To request a tour of our 1- and 2-bedroom luxury apartments , call our team at (816) 608-8494 or contact us online. The Villas at Waterside are open seven days a week for your convenience and are pet-friendly luxury apartments. We have spacious luxury studio apartments for rent, too!