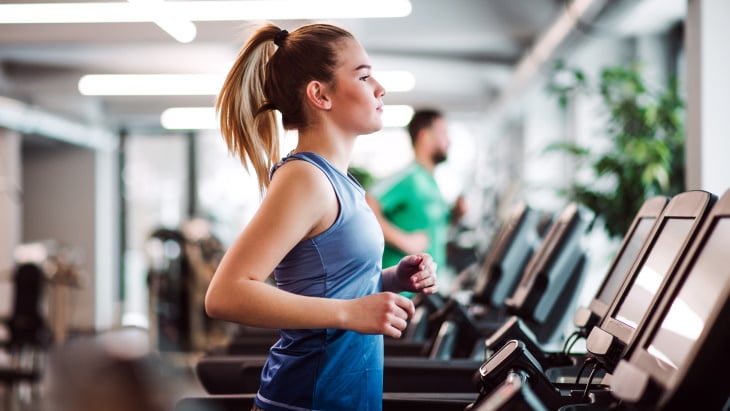 How The Villas at Waterside Can Help You Get in Shape
If you're like most people, your new year's resolution is to live a healthier lifestyle. Well, it's March, and you're still having trouble getting motivated. Don't ditch your resolution for a healthy life just yet! Instead, rent a luxury apartment at The Villas at Waterside, where we have the amenities you need to succeed!
From incredible outdoor cooking options to our state-of-the-art fitness center, see how our luxury apartments can help you reach your fitness goals for 2022 and beyond.
Create Delicious and Healthy Meals – Outside
Spring has arrived, and summer will be here before you know it. That means grilling season is just around the corner. Did you know that grilled food keeps more nutrients than fried or baked food? It's also a lot more flavorful, too!
Get ready to refine your grill game and maintain a healthy diet at the Villas at Waterside, because we have a summer kitchen and outdoor grills so you can cook a healthy and delicious meal comfortably outdoors.
How We Flex Our Luxury
One of the best ways to keep a healthy diet is by subscribing to a meal delivery service. The Villas at Waterside have a cold storage package room for all your fresh-food deliveries. That means you don't have to worry about your food spoiling while you're away at work.
Luxury Apartments for Rent With a 24-Hour Fitness Center
Of course, you can't reach your fitness goals without a fair amount of exercise. In fact, a pound of muscle burns almost three times more calories than a pound of fat. The only way you can slim and tone specific parts of your body is by hitting the gym. At our 24-hour fitness center, you'll find top-of-the-line weight machines, treadmills, free weights, and a lot more.
We help you take your fitness routine to the next level with our yoga and cycle studios. Schedule a private session with a trainer or tap into an online fitness class. All you need to bring is energy and a water bottle.
How We Flex Our Luxury
Our resort style pool is the perfect place for work and play. Swim a few laps for some great cardio, and then spend the rest of the day relaxing in a submerged lounge chair. Don't forget to ease your tense muscles in our elevated hot tub.
Relax In Our Private Day Spa and Massage Room
If you can't melt away tight muscles in our hot tub, you'll surely be able to find serenity with a private massage. Reserve our fully equipped massage room for a therapeutic sports massage, which eases sore muscles, improves your circulation, and increases your energy. Use our table and towel warmer at your convenience. Make sure to catch some rays in our tanning bed, too.
When you don't feel like lounging by the pool, hang out in our hammock garden! Our luxury apartments have lovely green spaces that are excellent for reading a book, listening to a podcast, or talking with friends.
How We Flex Our Luxury
Spend your days in our hammock garden, and your nights warming up with our fire pits. When you're ready to get moving again, ease your way into the action by using our outdoor game center.
Luxury Apartments With Unique Amenities You'll Love
There's nothing like getting outside on a beautiful day. Our luxury apartments near Overland Park are next to some amazing trails and parks, which The Villas at Waterside have community bikes. Pedal your way into fitness and get some fresh air by biking to Matt Taylor Park or Hidden Woods Park, where you'll find fishing ponds, trails, and playgrounds.
You can really work up a sweat on a long bike ride. Don't worry about cranking up the AC as soon as you get home, because we have smart apartments. That means you can control your thermostat with the touch of a button on our resident app.
How We Flex Our Luxury
The Villas at Waterside know that biking isn't for everyone. Instead of getting your workout in on one of our community bikes, grab your friends for a fantastic game of pickleball! This sport is taking the world by storm. Stop by our leasing office today, and find out why!
Our Apartments Have Something for Everyone – Even Your Dog
Being active with your dog benefits the both of you. It lowers the risk of anxiety and depression in humans, and stamps out behavioral issues with your dog. We thought of everyone at our pet-friendly apartments, which is why you can let your furry friend run free in our private bark park.
When you need a change of scenery, just put a leash on your dog and explore our ample green spaces throughout our property. We have plenty of pet stations, so you don't have to worry about forgetting supplies to clean up after your dog.
How We Flex Our Luxury
You already know our luxury apartments have a gorgeous spa for people, but we also have a paw spa for your pup, too! Wash away the dirt and grime from an extra fun day with your dog, and head straight to your apartment without fear of muddy paws.
You're Always in Good Shape When You Rent Luxury Apartments
Stop hitting the search bar for "luxury apartments near me," and start hitting the gym at The Villas at Waterside! Our smart apartments have everything you need to feel right at home, and our community has what it takes to help you strike a balance between work and play. Our luxury apartments are truly a knockout!
Call us today at (816) 608-8492 or send us a message online to request a tour of our apartments near Overland Park. We have spacious studios, 1-, and 2-bedroom apartments, so don't forget to check out our floor plans.