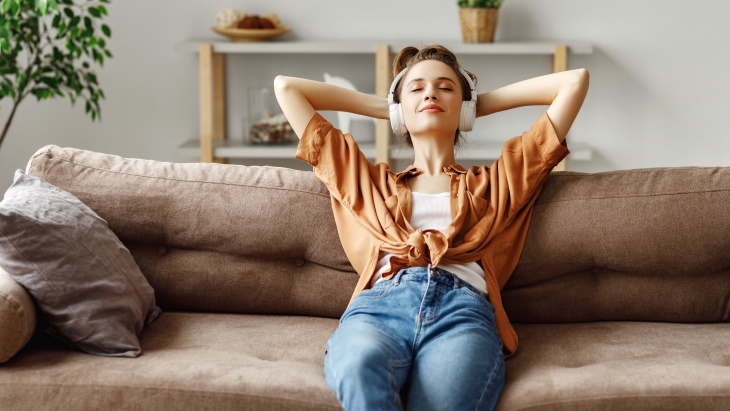 6 Reasons Why Luxury Apartments Make a Big Difference in Small Space
Making the choice to move into a smaller space can be a difficult one. You might ask yourself – are studio or 1-bedroom apartments right for me? If you're concerned about downsizing your home, don't be! The Villas at Waterside have luxury studios and 1-bedroom apartments for rent that are thoughtfully designed, spacious, and packed with amenities. Look at these reasons why living in a small apartment lets you live larger than you might think. Plus, why our luxury apartments are the only place you need to look for your next home.
1. Save Money and Live in Luxury at the Same Time
Choosing to live in a studio or one-bedroom apartment means you'll have smaller living expenses. Not only will you be paying much less in rent, your utilities will be cheaper, too. That's because it doesn't cost much to heat and cool your space. With all the extra money you save by renting an apartment on the smaller side, you'll have the funds to travel or splurge on other things that make you happy. Little Luxuries, Big Impact: The luxury apartments at The Villas at Waterside are smart homes! You can adjust your thermostat, turn on the lights, and unlock your door by simply accessing our resident app on your smartphone.
2. Smaller Spaces Improve Your Mental Health
We live in a world where life is thrown at us a mile a minute. This can lead to coming home, putting up your feet, and putting off your daily chores because you're feeling overwhelmed with work or school. However, many psychologists have pointed out that a large home filled with clutter can have a negative impact on your mental health. With studio and 1-bedroom apartment homes, you'll be able to keep your home clean and organized easily. Little Luxuries, Big Impact: We care about our residents at The Villas at Waterside, which is why we have our own private day spa and massage room. Reserve our massage table, use the towel warmer, and get glowing in our tanning bed.
3. Apartments for Rent With Room for the Essentials
Even though luxury 1-bedroom apartments and studios have less space than other floor plans, you still have enough room for amenities that make luxe living in apartment homes truly elevated. At the Villas at Waterside, all of our apartments for rent include full-size washers and dryers, French door refrigerators, and oversized, custom-built closets. Little Luxuries, Big Impact: Living in luxury apartments means you don't just get what you need at The Villas at Waterside, you get what you want! We filled our floor plans with thoughtful details like USB plugs and an under-counter beverage cooler. With amenities like these, who wants to waste time on other apartments for rent.
4. Go Green With a 1-Bedroom Apartment Near You
Did you know one of the biggest polluters in a home is heating? It doesn't matter what kind of system is installed, your heater will still produce carbon emissions. Small spaces are just more eco-friendly than larger living quarters. On top of producing less carbon emissions, luxury apartments for rent have more sustainable build designs, which means fewer maintenance costs and water usage. Little Luxuries, Big Impact: If you've ever lived in basic apartment homes, then you've probably had to wait quite a few days to get things fixed when they break. Our maintenance team is available 24/7 for emergencies and quickly attends to repairs in our luxury apartments for rent.
5. Relocating to Small Luxury Apartments Is a Cinch
When you reduce your living space by moving into luxury apartments for rent, you're forced to declutter. Having less to move makes moving into your new home super simple. Oppositely, when you want or need to move to a bigger space, you'll have less stuff to fuss about. Finally, you won't have to dread moving. Little Luxuries, Big Impact: Can you imagine hauling boxes up hundreds of steps to move into luxury studio apartments? Neither can we! Moving into The Villas at Waterside is especially easy, because we have elevators for easy access to our apartment homes.
6. You'll Be More Likely to Use Other Areas
When you live in basic apartment homes, there aren't a lot of community amenities. Even though living in a 1-bedroom or studio apartment is extra cozy, you're going to want to get out and stretch your legs. Luxury apartments have incredible amenities, which include resort-style pools, fitness centers, and private dog parks. This means you'll never get bored with where you live. Little Luxuries, Big Impact: Not only do we have all the amenities mentioned above at The Villas at Waterside, we have more! Catch the latest movies in our media lounge, soak up the sun on our expansive sundeck, or get hang time in our hammock garden. We even have a paw spa for your dog.
Find Apartments for Rent and Luxury to Spare at The Villas at Waterside
Come home to elegant quartz countertops, top-of-the-line appliances, smart home features, and more when you rent one of our apartment homes at The Villas at Waterside. We filled every inch of our incredible property with little luxuries that you'll want to use – from our pickleball courts to our large private patios, see what sets us apart from the rest! To request a tour of our beautiful property and our sensational apartments for rent, call (816) 608-7591 or send us a message online. Ready to get started without a tour? Apply for your new home online!