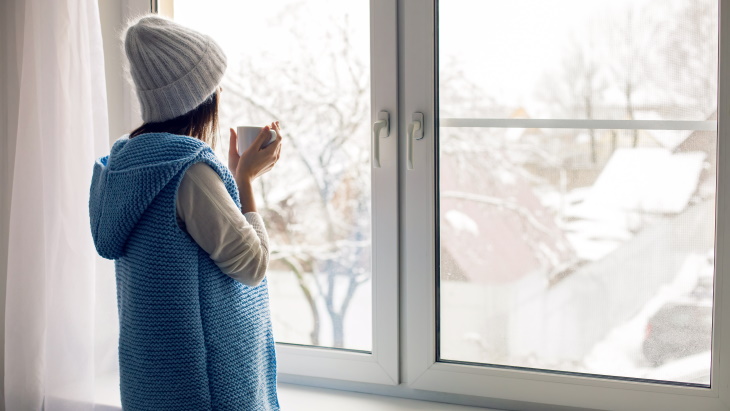 Your Guide to Ignoring the Storm in Apartment Homes
It's the time of year when it's too cold to go out, which means you get stuck inside. Stay calm and keep cozy, because you're going to live in the new apartments for rent at the Villas at Waterside. Not only do we have the best amenities, we also have floor plans that are perfect for being snowed-in. From the living room to your walk-in closet, here are our top tips to take advantage of our spacious apartment homes in Lenexa.

Make Your Living Room Extra Cozy
Don't head out to a stuffy and sticky theater! Instead, find ways to make your living room a place where you can feel cozy and entertained. It's not all about watching your favorite shows and movies, either. Use your living room to indulge in some of your favorite pastimes. Here are some tips on how to turn your living room into an area that suits your luxury lifestyle:
Bookshelves
Don't hide your inner bookworm, show it off with bookshelves filled to the brim with literature that makes you feel transported to a warmer climate. Don't worry, there's plenty of space in our luxury apartments to create your own little library.
Acoustic Panels
There are many benefits for hanging acoustic panels in your luxury apartment. The main benefit is that music and other audio is kept within the walls of your apartment, so you can have an incredible listening experience. Just make sure you don't pump up the volume after quiet hours begin.
Coffee Cups
We provide many features in our luxury apartments, but we can't keep your coffee warm when you get distracted by our incredible amenities. Invest in a set of high-quality coffee cups, mugs, and tumblers. Then head on down to our complimentary coffee bar for a fresh brew.
A Place for Your Pup
We often forget about the comfort of our pets when we arrange the furniture in our living rooms. Take a trip to your favorite pet store and pick out a bed, blankets, fresh toys, and treats to keep them entertained in the winter. That way, you'll both be in winter paradise.

Luxury Apartment Life: The Villas at Waterside make winter extra warm with luxury apartments for rent with smart home features. Curl up on the couch, and never worry about adjusting the temperature or unlocking your door to let your friends in, because you can control the thermostat and your lock through our resident app.

Make Your Bathroom Feel Like a Spa
Whether you're looking for a luxury studio or 1 bedroom apartment near you, it's essential you have a space to unwind and relax. Turn your bathroom into a luxury suite that would put any hotel to shame. The trick is to keep your bathroom clean and with minimal décor. Look at what you can add to your bathroom for a spa-like experience seven days a week:
Bath Accessories
You can't have a spa experience without tools of the trade. Invest in high-quality bath brushes, loofahs, and sea sponges. Bonus – these bath accessories double as décor.
Natural Scents
Artificial fragrances irritate your senses. To imitate the relaxing scents of your favorite spa, head to your local flower shop and buy a bundle of eucalyptus. Tie it to your shower head or just place them in a pretty vase.
Turkish Style Shower Curtain
Turkish tile is a staple in many spas, but you can't re-tile the bathroom in luxury apartments for rent. Instead, purchase a similarly patterned shower curtain, bathmats, and wall art. The intricate designs will add sophistication to your bathroom.
High-End Bath Towels
Luxury apartments need luxurious linens. High-quality bath towels, bath sheets, and bathrobes are a must when you're trying to evoke the feeling of a spa. Make your bath towels even more opulent by scenting them with a few drops of your favorite essential oil.
Luxury Apartment Life: When you live in the apartments for rent at The Villas at Waterside, you can have two spas! The one you create in your luxury apartment, and our day spa featuring a tanning bed. If that's not enough, you can also help your pup relax with a run through our dog park and wash at our paw spa.

Turn Your Bedroom Into a Sleep Sanctuary
You spend a lot of time in your bedroom, which is why it's important to turn it into a space that's truly yours and helps you have sweet dreams. When you're choosing décor for your bedroom, keep in mind it's meant for you and no one else. Look at these tips to turn your bedroom into a sanctuary this winter:
Quality Bedding
When you sleep, you need to be as comfortable as possible. Find bedding that works with your sleeping style. For instance, you might like silk sheets to keep you cool or high-quality cotton that's luxuriously soft.
A Mattress That Works
If you want to snooze with the best of them, find a mattress that fits your body type. While the price tag might put you off, you'll appreciate not tossing and turning on cold winter nights.
Choose the Right Bedroom Color
We all have our favorite colors, but green or blue is the best for your bedroom. They are both calming and help us connect to the natural world, which creates a feeling of relaxation.
Blackout Curtains
Don't ignore your windows, because even a little light can keep you awake when you need to sleep. Go all out with blackout curtains that go from the top of your window all the way to the floor. That way, you can block as much outdoor light as possible.
Luxury Apartment Life: When you live in luxury studio apartments, having overnight guests can be a little stressful. Unless you live in our studio and 1 bedroom apartments near you! The Villas at Waterside has a guest suite for when you have visitors that need a place to stay. Not only that, your guests can also enjoy our amenities with you, too!

Apartments for Rent That You'll Never Want to Leave – Even When Winter Is Over
It doesn't matter what season it is, you'll love your life in our luxury apartments at The Villas at Waterside. Our spacious floor plans offer enough room for a home theater system, plush bedroom furniture, and everything else you need to feel at home all year around.
If you're searching for luxury studio apartments or something bigger, search no further than The Villas at Waterside. Call our leasing team at (816) 608-8494 or contact us online to schedule a tour of our beautiful property. We can't wait to welcome you to our new apartment homes!