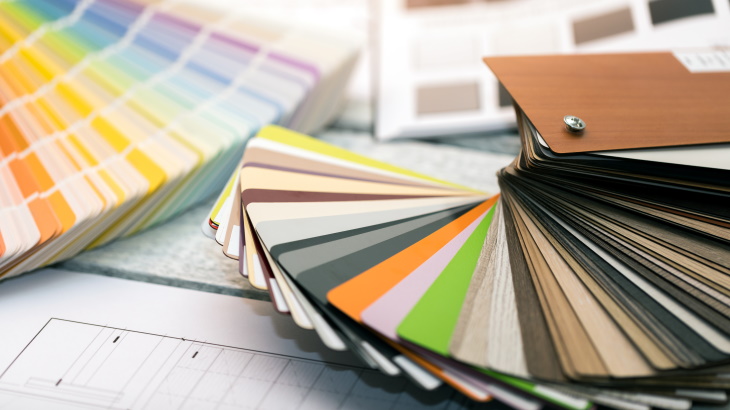 How to Choose the Right Décor For Your Luxury Apartment in Lenexa
When you live in a luxury apartment at The Villas at Waterside, it's easy to get snowed-in. Show yourself love this winter by upgrading your interior design style. But which one best represents you? Look at these design ideas to create a space that's uniquely you, and how you can show them off in our luxury apartments in Lenexa.

Traditional Interior Design For a Timeless Look
If your style is comfortable, yet put together, then consider a traditional approach to your home décor. This kind of interior design concerns itself with conventional notions of 18th- and 19th- century European style. Think neutral color palettes, furniture in pairs, wood finishes, heavy cotton, velvet, and antique silver.
Home décor pieces that look stunning in luxury apartments are jewel-toned chairs, an elegant coffee table, wool throw pillows, and vintage rugs. Window treatments are usually kept simple. Try classic layers with drapes and curtains, and skip the fuss of installing a curtain valance.
Traditional With a Twist
French country is the perfect way to brighten up the neutral palette of traditional interior design, with baby blues, soft yellows, and warm pinks. Add casual elegance to new apartment homes with softly patterned fabrics, distressed furniture, and light-colored wood. Fill your luxury apartment home with cozy furniture and weathered side tables.
French country interior designs pair well with wine stored in a full-size refrigerator with French doors. The new apartments for rent at The Villas at Waterside have gorgeous kitchens fit for refining your cooking skills and showing off your culinary flare. When you're ready to go all out, we'll have our summer kitchen ready and waiting!

Luxury Apartments that Focus on Function Over Form
Modern interior design style is for people who like to focus on simplicity and function. Rooted in the early 1900s, modern interior design focuses on clean lines, smooth and sleek surfaces, and glass accents. Most experts recommend keeping your furniture and décor on the minimal side, and ditch your knick-knacks.
Decorate your luxury apartment in Lenexa with neutral walls, trendy art, iron and steel finishes, concrete elements, simple window treatments. Avoid furniture with bold colors and patterns. Instead, opt for couches and chairs that are in shades of grey and have smooth lines.
Make Modern Yours
Nothing looks better in an open kitchen than modern farmhouse décor, because it's charming and cozy. Focus on simple lines, warm neutrals, and a mixture of metal and barnwood details. Keep your décor to a minimum and add touches of black for dimension.
One bedroom apartments and studios at The Villas at Waterside have open concept kitchens that look out into a spacious living room. You can easily carry modern design throughout your entire luxury apartment. Plus, your washer and dryer are neatly tucked away in their own space. That way, your apartment looks as fresh as your style!

Choose Art Déco For Sophisticated Edge
If smooth lines and soft edges aren't your style, then consider art déco. With heavy inspiration from the industrial revolution and the late 1920s, art déco features jagged corners, pointed edges, oversized furniture, luxurious upholstery, and high-end furnishings. The best part about this design style is that you get to experiment with bright colors, bold shapes, and accents with high-shine.
Style luxury apartments with bright and deep blues, greens, and yellows. Choose accents that feature mother-of-pearl and fill rooms with big sideboards and armoire. Art déco combines fabrics like leather and velvet, which look great in your bedroom. If you want to make a subtle statement, try subtle glass accents next to lamps to reflect light and add dimension.

Soften Up Your Edges
Art déco looks great when it's combined with modern trends. Combine your sharp style with contemporary interior design. Go for large, minimalistic elements that embrace a neutral color palette. Add in thoughtful art déco details that offer touches of sophistication to shelves, tables, and walls.
The bedrooms in the luxury apartments at The Villas at Waterside are perfect for art déco and contemporary styles, because they can accommodate large furniture. Add a king-size bed and everything you need to sleep well in your bedroom, and you'll never have to worry about room for your clothes because our floor plans feature walk-in closets!

Bohemian Interior Design Style For an At-Home Oasis
Are you the person who likes to go with the flow? Then it's time for you to go boho! This interior design isn't styled for anyone but you, so kick structure to the curb, and decorate your luxury apartment in Lenexa free and easy by layering colors, patterns, and textures.
Focus on original handmade pieces of art, wicker accent furniture, plush chairs, and adding plenty of throw pillows. Boho life is centered on comfort and interest, so make sure you fill your shelves with items that make you happy and create an atmosphere you enjoy.
Let Luxury Apartments Inspire You
Zen-inspired interior design is an excellent way to bring ultimate peace into new apartment homes. Set up an inner sanctuary and decompress from the outside world by taking comfort to a new level. Decorate your luxury apartment with natural products like bamboo, stone, and pattern-free fabrics.
You'll always feel relaxed when you live at The Villas at Waterside, because we have three beautiful spaces that are perfect for relaxation and meditation. We didn't forget about your four-legged family member, either. Take a relaxing stroll to our bark park and stop by the paw spa when you're done. Wrap up your day with a stretch in our yoga studio and a dip in the elevated hot tub.

The Villas at Waterside Are Your Worry-Free Luxury Apartments in Lenexa
Not only do the Villas at Waterside have the best floor plans in Lenexa, we have the best team, too! When you live in our new apartments for rent, you can be sure that we're working around the clock to keep your home in opulent condition. We have 24/7 worry-free maintenance, smart apartment technology, elevators, and everything else it takes for you to live in carefree luxury.
Ready to show off your style in our new apartment homes? Call our leasing office at (816) 608-7843 or contact us online today to schedule a tour of our luxury apartments in Lenexa. Don't forget to ask us about how you can get tan before summer in our day spa!