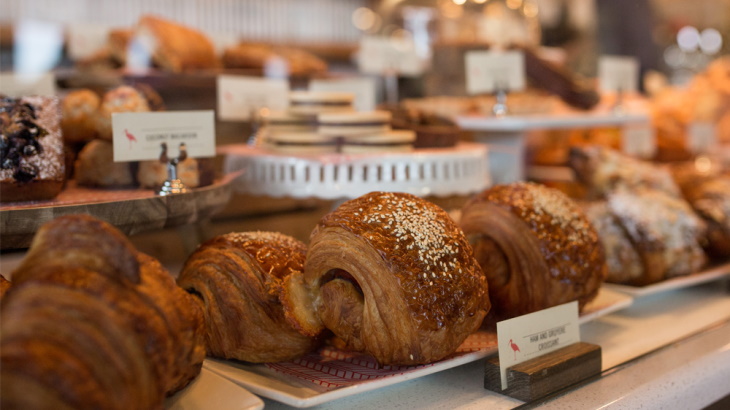 Top 5 Reasons Why Quivira Road Leads to a Life of Luxury
You drive down it almost every single day, but have you ever thought about how great it is to live off Quivira Road? At The Villas at Waterside, we think this Johnson County road is golden! See why
Quivira is the best place to live
, and why you should make our
luxury apartments
your next home.
Delicious Food Is Always Close to Your Luxury Apartment in Lenexa
Even though our
luxury apartments in The Villas at Waterside
have stunning and spacious kitchens, sometimes you don't feel like cooking. Thankfully, Quivira has some of the best restaurants in Kansas City to satisfy your appetite. Here are two highly rated restaurants you can drive to in just a few minutes when you live in our new apartment homes.
Le Peep for Breakfast, Lunch, and Brunch
You can get to this locally owned restaurant in less than five minutes from your luxury apartment in Lenexa. Le Peep's menu boasts more than your typical breakfast items. Enjoy fresh, simple, and elegant salads, sandwiches, and panhandled skillets. If you're ready to really indulge, try their famous cinnamon roll pancakes.
Papagallo Italian and Mediterranean Express for Comfort Food on Cold Days
Your one-bedroom apartment is incredibly cozy. Make it even more comfortable with savory Italian and Mediterranean food from Papagallo. With just a short drive you can grab gyro, chicken parmesan, shawarma, and more.

Never Worry About Running Out of Coffee
When you run out of coffee, it can really throw off your day. Especially, when you need to get to work. You don't need to worry about cutting into your commute when you leave, because your new luxury apartment in Lenexa is close to one of Kansas City's favorite coffee shops – Black Dog Coffeehouse!
This local KC favorite offers delectable coffee and tea, along with mouth watering pastries from Ibis, one of the best local bakeries in the metro. Other than our luxury apartments in Lenexa, Black Dog Coffeehouse is also a great place to stop and relax. Grab a specialty latte, catch up with your friends, or just take time to read a chapter from your favorite book.
The Villas at Waterside have a complimentary coffee bar for all of our residents. Come grab a cup of joe and head straight back to your luxury apartment without ever stepping outside!

Get a Luxury Apartment in Lenexa That Has Access to Great Shopping
No one likes to spend the whole day fighting traffic in order to reach their favorite shopping mall. When you lease luxury apartments in The Villas at Waterside, you can get to Oak Park Mall from Quivira in about 15 minutes. Find yourself in the middle of Kansas City's favorite indoor shopping mall, where you can buy the best brands in clothing, shoes, cosmetics, and more.
Just across the street from Oak Park Mall is Orchard Corners, where you can shop at the Skechers store, find deals at Nordstrom Rack, or pick up supplies for your next art project at Michaels. After you shop until you drop, head back to The Villas at Waterside, where you can relax in our hammock garden or stretch away stress in our yoga studio.
Feel Refreshed in No Time With a Trip to the Park
When you need a moment outside to get away from the hustle and bustle of everyday life, a park is an ideal place to unwind. Plus, it's the perfect way to spend special time with your furry friend. Check out these parks that you can walk to in just minutes when you lease new apartments in The Villas at Waterside:
Hidden Woods for Fishing and Trails
Take a relaxing walk down to the fishing pond in Hidden Woods Park, where you can catch catfish and bluefish. Just make sure you have your state fishing license before you cast your line. Best of all, Hidden Woods is only a three-minute walk from our luxury apartments in Lenexa.
Take a Short Drive to Matt Taylor Park
This is a park that has something for everyone. Take the kids to the playground, have a tennis match with a friend, or play a game of basketball. Matt Taylor Park even has inclusive playground equipment, so the whole family can have fun outdoors.
You don't have to head to the park to have a good time. You can find pickleball courts, cycle studios, and a resort style pool when you choose to live in our new apartments for rent. We even have a bark park, so you can let your dog off-leash to let off some steam.

Living in New Apartment Homes on Quivira Means Convenience
When you live in The Villas at Waterside, you're located near highways that take you to the most popular attractions in Kansas City. Hop on I-35 and head to the Power and Light District or jump on 69 Highway and spend time at the Overland Park Arboretum.
Having easy access to the highway means day trips are much easier. You can easily get on the highway to visit places like Louisburg and Lawrence. Our luxury apartments will be warmly waiting for you when you get back.

Finally, the Luxury Apartment in Lenexa You've Been Searching For!
The Villas at Waterside offer luxury living at its finest! We combine
top-of-the-line amenities
and a fantastic location to make our
new apartments for rent
the best in Lenexa. Come see how you can enjoy stainless steel appliances, smart home features, full size washers and dryers, and more in our luxury apartments. We know you won't want to live anywhere else!
Ready to let Quivira Road Lead You to The Villas at Waterside? Call our leasing team at (913) 521-9550 or contact us online to request a tour of our new apartment homes. We have spacious two and one bedroom apartments that are perfect for working from home, so don't forget to check out our floor plans to see how you can set up your new home!