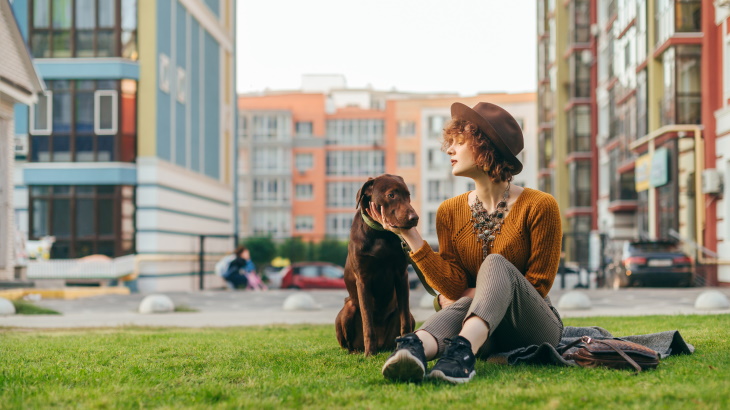 Top 3 Tips For Successfully Moving With a Pet to Apartment Homes
No one makes you smile like your furry family member! That's why you need to make sure you keep them extra safe while you're moving into one of our new luxury apartments for rent. Each kind of pet needs special care when they're traveling to a new home. From furry to scaly, look at these top three tips for moving your pet to The Villas at Waterside.
How Can I Prepare My Dog to Move to New Apartment Homes?
Moving is a big deal, and most pets don't readily adjust to moving to a new home. When you have a cat or a dog, it's best to start the moving process as soon as you can. That doesn't mean pack up all your belongings months before you move into the luxury apartments at The Villas at Waterside. It simply means start gathering moving boxes, packing tape, and everything else you need to move your valuables a few weeks before you move.
Once you stock up supplies, your dog might be suspicious at first, but they soon won't give them a second glance. Plus, your dog will love a few boxes left open filled with fun things like loud tissue paper and their favorite toys.
Quick Tip: It may feel like a good time to switch up your routine when you're about to move into luxury studio apartments, but a change in your routine may stress your pet out. Make sure you feed them at the same time every day, keep up the regular walks, and give them a little extra TLC.

What Are Some Special Tips for Moving a Cat to Apartments for Rent?
If you have a feline family member, then you know taking them anywhere is a tremendous task! Thankfully, there are a few things you can do to prepare your cat to move into new apartment homes.
Get Out the Carrier
You've probably seen the way your cat reacts to traveling in a carrier when you take them to the vet. Leave the carrier out and open, so your cat can explore it at their own pace. Try putting treats or their favorite toy to encourage them to go inside.
Feed a Small Meal on the Day of the Move
It's not just humans who get an anxious stomach, your cat does, too! There will be some stress that you just can't control. Avoid a big mess by feeding your cat a small meal the day you move to your apartments for rent. This can also prevent your car from getting carsick.
Quick Tip: Cat not feeling the carrier? That's okay! Start feeding them their meals next to it. They associate their carrier with meals, instead of fear.

How Can I Safely Move a Fish Tank to My New Apartment Homes?
Moving fish is a lot more difficult than it looks. Not only do you need to worry about each individual fish, you have to think about how you're going to safely move your tank, and how to get it set up for habitation immediately. Here are some easy steps to prepare your tank for a move:
Collect all your supplies in advance. You'll need plastic bags for your fish, buckets for your plants, siphon hose to remove water from your tank, and packing supplies to keep your fish and tank secure.
When your fish tank is empty, wipe down decorations and dry them. If they are fragile, pack them in bubble wrap or packing paper.
Transport sand and pebbles in a bucket.
Remove all the attached equipment, clean it, and dry as necessary. Keep your filter damp, or it may dry out and kill beneficial bacteria your fish need to survive.
Wipe down your tank, and dry it before you move it to your new apartment homes.
Quick Tip: Stop feeding your fish for about a day prior to moving them to their transport container. This keeps the water clean during your move. Don't worry, healthy fish can go up to a week without eating, so they will still be in good shape if they go without food for the day.

Where Can I Find Luxury 1 Bedroom Apartments Near Me That Have Enough Space for Me and My Pet?
The Villas at Waterside have spacious luxury 1 bedroom and 2 bedroom luxury apartments that are spacious and filled with the best amenities in Kansas City. We even have luxury studio apartments for rent, too!
We have a bark park and paw spa for your best friend, but we didn't forget about you! Come see our resort style pool, exclusive 24-hour fitness center, pickleball courts, and more when you request a tour at The Villas at Waterside.
Ready to put up your paws in our new luxury apartment homes? Call our leasing office at (816) 608-7633 or contact us online to speak with a member of our team. Don't forget to ask about why The Villas at Waterside are the best place in Lenexa to work from home!