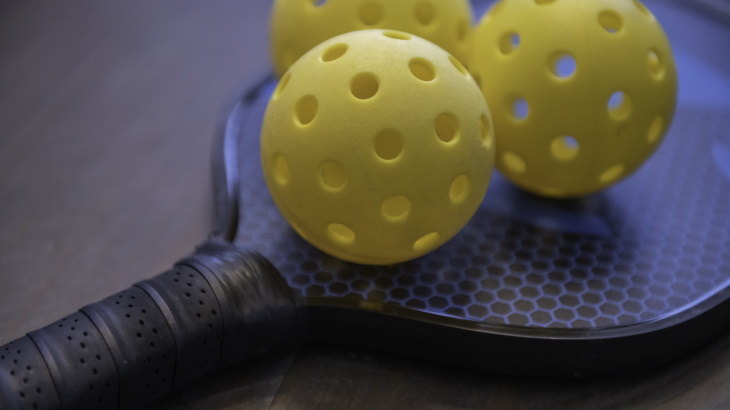 Get in on the Fun at The Villas at Waterside Luxury Apartments
You've heard everyone talking about pickleball in Kansas City, and how fun it is to play with your friends and family. At the Villas at Waterside, we couldn't agree more! See why this sport from the 1960s is making a comeback in Kansas City, and how you can play when you rent one of our luxury apartments.

What Is Pickleball, and What Are the Rules?
Pickleball is a super fun sport that combines elements of tennis, badminton, and ping pong. It's easy to play and safe for all ages. Most people play pickleball outside, but you can find many indoor courts to play on during the winter.
A pickleball court is about the same size as a badminton court and uses a modified tennis net that's much smaller. You play with a paddle and a ball with holes. It's a great way to spend time with friends, because you can play singles and doubles.
Games are usually played until one team has reached 11 points. However, a team must win by two points, in order to win. Keep the pickleball in the court by hitting it back and forth with your paddles. The ball needs to bounce on each side of the court after it's served, but after that, you can play it off a bounce or hit it before it bounces.

Are There Luxury Apartments for Rent That Have Pickleball Courts Nearby?
The Villas at Waterside are conveniently located near several pickleball courts, so you can grab your friends and neighbors for a fun day outdoors. Check out these courts that are close by:
Bois D'Arc Park
These pickleball courts are only an 8 minute drive from our apartment homes. They also have basketball courts and a playground geared towards ages between 5 and 12 years old.
Meadowbrook Park
Experience some of Kansas City's newest pickleball courts at this beautiful park with just a quick drive on the highway. While you're waiting for your court, you can enjoy an outdoor gym, or grab a coffee at a nearby café.
Matt Taylor Park
In a blink of an eye, you can play pickleball at this park that's only 4 minutes away from The Villas at Waterside. This park also features two playgrounds and a basketball court.
When you search for "1 bedroom apartments near me," you won't find luxury apartments in Johnson County that have a better location than The Villas at Waterside. Our neighborhood is just a jump to incredible shopping, scenic hiking trails, and many more Kansas City attractions.

Tell Me Some Benefits of Pickleball
Besides being extremely fun, pickleball packs a lot of benefits for your health! After all, it's a whole body sport. Check out some ways your body can benefit from pickleball:
Gets You Out of Your Apartment
Pickleball is a great way to get out of the house and into the fresh air, which is good for your mental health. It also gives you the opportunity to socialize with your friends healthily. Play pickleball, reduce stress, and boost your mood!
Pickleball Keeps You Fit
When you play pickleball, you improve your cardiovascular health. This is a perfect sport to play to reduce the risk of heart attacks and strokes. You can improve your bone health by playing pickleball, because it strengthens your muscles and works out your joints.
At the Villas at Waterside, we have everything you need to stay fit and healthy. Along with our very own pickleball courts, you can find a 24 hour fitness center, and a cycle studio.

Play Pickleball at Home, When You Lease Apartments For Rent at the Villas at Waterside
When you're done playing pickleball at the park, bring the fun home to the Villas at Waterside to play even more on our private courts. End your day in our elevated hot tub and then wind down in the evening with your favorite glass of wine by our fire pits.
Take your relaxation a step further by stretching in our yoga studio and reserving a room in our day spa for superior self-care. You won't find luxury apartments in Lenexa that are more spacious or with better amenities than the Villas at Waterside.
Ready for a win? Contact our leasing office at (816) 608-7282 or get in touch with us online to request a tour. Find out what work life balance really looks at The Villas at Waterside, where style meets comfort. Don't forget to ask us about our luxury studio apartments!