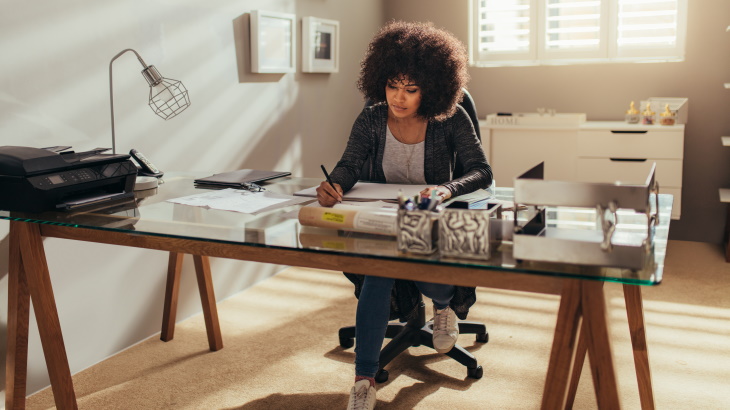 Easy Ways to Make More Space in Luxury Apartments
Does the idea of working one more day at your kitchen table make you cringe? Then it's time to invest in a home office. You might not think your luxury apartment has the space to create an amazing workspace, but if you look hard enough, you have everything you need to be successful.
Making an area in your home for an office is easy, if you know where to start. Take a look at these 4 tips to create an incredible workspace in one bedroom apartments.
1. Make a List of What You Need Before Setting Up an Office
The first step in setting up your home office is to make a list of everything you need to be productive and comfortable. This may seem simple at first, but it takes a lot more than a computer and a desk to keep motivated at home. Here's a quick list of some basics you'll need for your office:
Desk that suits your working style
Ergonomic chair
Laptop stand
Surge protectors
High-speed internet
Lighting
Don't forget about the little extra touches that make your home office special. Think about a coffee station, plants, headphones, and office stationery. Also remember to measure doors and passageways your office furniture needs to pass through, so you can be sure it fits in apartment homes.

2. Look For Underused Space in Luxury Apartments
If you have an area in your apartment that you barely use, it might make the perfect space for a home office. For instance, you might have an empty wall in the dining room. You can move your table a few feet forward, place a desk against the wall, and still have enough room for storage and to have friends over for dinner.
You can often find extra space in luxury apartments by moving all the furniture in your living room a few feet away from a corner that only has items like end tables and other decor. Just like that, you've created a corner office space.
Try and keep your home office out of your bedroom. Studies have shown that electronics are bad for bedtime. If you have to put your home office in your bedroom, invest in a privacy screen to create separation between your workspace and personal space. It's important to remember your bedroom should always be a place to relax and find solitude from work.

3. Modern and Functional Furniture Pairs Well With Luxury Apartments in Lenexa
We live in a modern world with amazing furniture! If you don't have the space for a full-fledged office, look for furniture that performs double duty. Here are different kinds of desks to make your home office ultra-flexible, especially when you're looking at new apartments for rent and want to fit in all the essentials.
Lightweight Desks
You can find lightweight desks that are functional and stylish. They offer a spacious worktop, can easily be moved from room to room, and can double as a serving table or cocktail bar when you remove your work items.
Corner Desks
Corner desks create space in your apartment by allowing you to place a desk in an empty corner you don't normally use. They are perfect for people who need to use more than one computer monitor.
Storage Desks
These desks are ideal for at-home workers with a lot of office supplies. With the right storage desk you can quickly find necessities like staplers, chargers for your electronics, surge protectors, and more. Storage desks range from small to very large, so make sure the one you choose doesn't take up too much room in your apartment.

4. Choose Office Furniture and Decor That Suits Your Style
Don't underestimate the power of style! When you take a few moments to choose decor and office furniture that inspire you to be productive, you'll notice a difference in your workday. Find a chair that's comfortable, but stylish, and look for small decorations that put a smile on your face.
The most important thing to remember about decorating your home office is to keep it clear of clutter. When you have too many items taking up valuable space on your desk, you might get distracted. Find a few small items that keep you happy and focused.
Try choosing office furniture that can be built up with shelves. You can use some shelves to store your supplies and some shelves to display decorations.

Work, Live, and Lease Luxury Apartments in Lenexa at The Villas at Waterside
The Villas at Waterside have one bedroom apartments that can fit everything you need to work and live luxuriously. Each of our units has high-speed internet access that can handle whatever your job requires of you, and we even have a fully-equipped conference room and co-working space for important meetings.
After you're done working, enjoy our fabulous amenities. Take advantage of our yoga and cycle studios, relax in the hot tub, or spend some quality time with your dog at our bark park. We even have a hammock garden to spend a beautiful afternoon outside. You'll love our new apartment homes!
Are you ready to set up your home office? Then call our leasing office at (816) 608-7591 or contact us online to request a tour of our luxury apartments. When you lease one of our new apartment homes, you'll never want to live anywhere else!