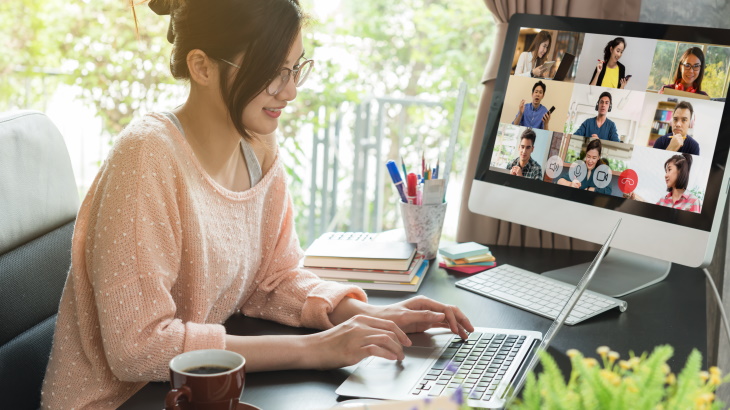 How to Turn Your Lenexa, KS, Apartment into a Home Office
Although working from home is not a new concept, some of us are still struggling with how to perfect the routine of the daily grind when working remotely. Even if you're in a spacious luxury apartment, such as the ones at The Villas at Waterside, working from home may still feel like a work in progress. Chances are, when you were originally searching for studio apartments in Lenexa, you probably never thought your living space would need to double as an office space.

However, even in the midst of this new normal where people can quite literally roll out of bed and crack open their laptops to begin working, there are ways to make home office life easier and more productive. To break down how to make the most out of your Lenexa, KS, apartment, we're offering our top tips on how to work from home like a pro.

Have Designated Work Hours and a Designated Work Space
Some of us have jobs that grant us full autonomy with time management. That means the temptation of logging in late or taking an extended lunch is definitely present, so it's all the more important that you present yourself as the ideal employee and stick to a schedule. If you're supposed to be available between 9:00 and 5:00, be available between 9:00 and 5:00. Keeping designated work hours ensures that you're not still on your laptop at 8:00 p.m. trying to catch up on things you slept through that morning.

Additionally, have a designated work space. This should be a place in your apartment that you rarely use or don't mind associating with work. In other words, don't work from bed. The luxury studio apartments at The Villas are quite sizeable, so try to find an area that is your designated work zone. You can even use your kitchen table if you need space to spread out. Having a designated work area will physically and mentally set a boundary between your home office and the rest of your apartment.

If you find that you just can't make it work in your apartment – no problem – The Villas at Waterside has a designated co-working space on the main level with high-speed internet and plenty of plug-ins for your electronics.

Cut Down on Distractions
There's a reason that most offices don't have PlayStations, Xboxes, and giant 4K TVs playing reruns of "The Office" on a loop – they're distractions. It's easy to keep your mind on work when you're at work, but it's slightly more challenging when you're in your luxury studio apartment with every toy and piece of tech sitting there waiting for you to pick up.

Do yourself a favor and put anything that could potentially be distracting out of view. "Out of sight, out of mind," as the saying goes. Turn the TV off and put the controllers away. You may even consider putting your phone in another room so you're not checking it all throughout the day.

Get Your Essentials in Order
Creating the proper home office in your Lenexa, KS, apartment will take some investment, some creativity, and a lot of preparation. First off, you'll want to invest in a decent office chair. Don't be afraid to throw a good amount of cash at this item because it's going to be your best friend for at least 40 hours per week. If you're comfortable and relaxed, you're going to be more productive. If you're uncomfortable or in pain, you're going to be thinking about how terrible your chair is instead of work. Go with something ergonomic with plenty of cushion and lumbar support.

Some other items to consider for your home office:

An additional monitor that you can hook up to your laptop. 27" of screen real estate is plenty if you regularly deal with multiple windows and spreadsheets.
A really good pair of noise-cancelling headphones. These are great for people who have noisy neighbors or yappy dogs.
For those that take a lot of Zoom meetings, a Ring Light is a great way to present a more professional appearance.
Ambiance and comfort items. Give your workspace a personal touch with candles, pictures, plants, and other décor that create a comfortable work vibe.
Take Advantage of All Your Work from Home Perks
Working from home means you don't have to commute and you can actually cook real meals during lunch. But we'd be remiss if we didn't mention all the perks that come with living in a luxury studio apartment like The Villas at Waterside. We have an exclusive 24-hour gym you can use if you want to get in a workout during the day. We also have an outdoor game center, pickleball courts, and other ways to grant yourself a mid-day reprieve. If your work day is getting the best of you, taking advantage of some amenities may be just what the doctor ordered for your mental well-being.

Check Out Your New Lenexa, KS, Apartment Today at The Villas!
If you've been searching for apartments near you that will also make a suitable home office, then look no further than The Villas at Waterside. Our luxury apartments for rent come in a wide variety of floorplans that are sure to suit any home office needs. Additionally, our wide variety of amenities will keep your work/life balance in check. Come check out The Villas at Waterside and you'll never want to live (or work) anywhere else.

The best way to book a private tour of The Villas at Waterside is to send us a message using the Contact Us form. Simply let us know you'd like to schedule a viewing and a member of our team will get back to you.

Or, you can call us directly at 913-521-9550 to speak with someone in our leasing office. We are open Monday thru Sunday. Schedule a tour today!