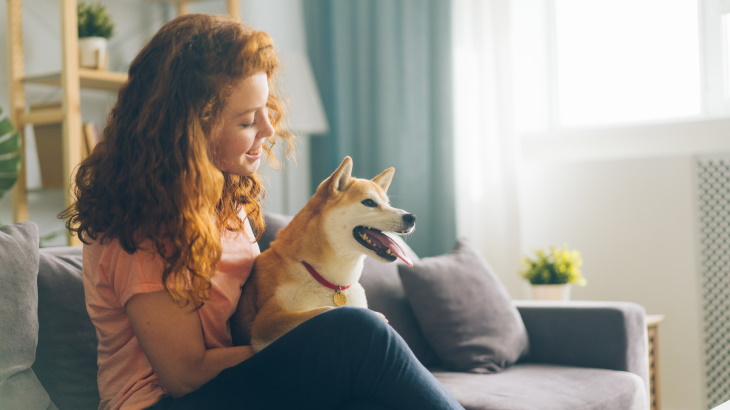 Four Ways to Keep Your Pup Entertained in Our Luxury Apartment Homes
Here at The Villas at Waterside, we love pets of all shapes and sizes. We pride ourselves on being one of the most pet-friendly apartments in Lenexa, KS. After all, they're scientifically proven to promote better physical and mental health in their owners. There's nothing better than coming home after a long day at work to the wagging tail of your four-pawed companion. Dogs simply make life better; however, living in a one-bedroom apartment or luxury studio apartment can sometimes prove a challenge, especially for larger breeds.

Dogs need activity and stimulation in order to stay happy and fit. If you let a dog lay around all day with nothing to do but graze on kibble and watch daytime TV, you might find yourself with a large, lazy pup. So, how do you make sure that your pet is getting the most out of their apartment home life? We've got four solutions that should help out with that.

Toys (and lots of them!)
The thing about dogs – especially younger dogs – is that if you don't give them something to play with, they'll find things of yours to play with. If you don't give them a toy, the arm of your couch or your $160 running shoes might just wind up in their mouth. To avoid that, make sure you shower your pup with a large variety of toys to keep them busy throughout the day. You can purchase a bunch from your local pet store or go with a subscription service like BarkBox. If you notice that your dog is no longer interested in a particular toy, take it out of rotation and give them a new one. Hold on to the old toys. After a month or so, you can reintroduce them and your dog will play with them like they're new again. This will keep your dog engaged and active during the day, and keep your furniture and possessions out of their mouth.

Exercise
Dogs are pretty great about picking up specific words in the English language that pertain to them, and nothing gets a pup more excited than when you grab their leash and say, "outside!" Here at The Villas at Waterside, we have plenty of greenery and trails in the surrounding area for you and your pup to take a nice, long walk. We also have our famous bark park, which is an Instagram-worthy locale where your dog can run around and socialize with their K-9 neighbors. A pup that's getting plenty of exercise and opportunities to be social is a happy one.

Paw Spa
The same way us humans enjoy a nice, relaxing spa day, the same can be said for our K-9 counterparts. Here at The Villas at Waterside, we happen to be one of the few apartment homes in the Johnson County area that offers a luxurious paw spa to our four-legged friends. Our experienced team can bathe, groom, primp, and perfect your dog's look (and smell). Simply set up an appointment and drop them off with us.

Treat Puzzles
Dogs need physical exercise, but they need mental exercise, too. K-9s have a natural curiosity about them, which is why they're constantly sniffing around and checking things out. It's best to lean into this and give them something to work on, which is why treat puzzles are the perfect busy work for dogs who need something to do while hanging out in your luxury studio apartment. There are SEVERAL treat puzzles for dogs available online, many of which you can get for $10 or less. It's a worthwhile investment to keep your furry friend busy.

Tour Your Next Apartment Home at The Villas at Waterside!
If you're looking for an apartment to rent in the Johnson County area that also happens to adore dogs, then look no further than The Villas at Waterside. We have an amazing pet policy that allows up to two pets – cats AND dogs – with plenty of amenities and local greenery for them to run around in. And, of course, our extensive list of amenities applies to our valued residents as well. Our 24-hour fitness center, day spa with tanning bed and massage room, and outdoor grills and fire pits are just a few of the wonderful amenities we offer.

We offer a variety of floor plans that include luxury studio apartments, one-bedroom apartments, and more. We're also one of the few apartment homes in the area that are smart-capable, meaning that you can control the locks, lighting, thermostat, and other features in your unit with the touch of a button with our app.

The best way to book a private tour of The Villas at Waterside is to send us a message using the Contact Us form. Simply let us know you'd like to schedule a viewing and a member of our team will get back to you.

Or, you can call us directly at 913-521-9550 to speak with someone in our leasing office. We are open Monday thru Sunday, stop by or schedule a tour today!