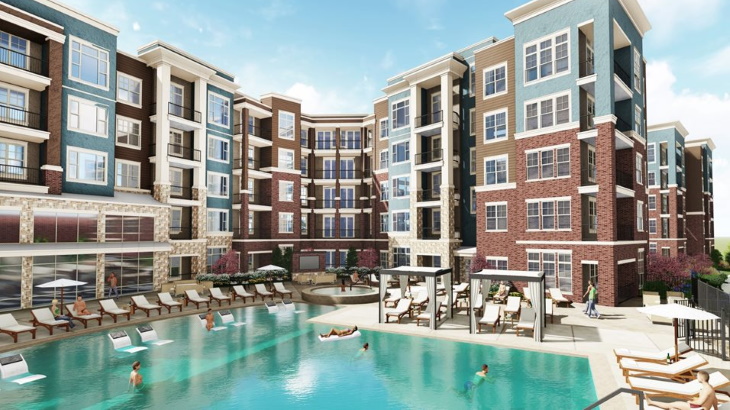 Making the Most of Your Summer Amenities
Summer is officially upon us here in Kansas City, which means more pool parties, more get-togethers with friends, and a whole lot of fun in the sun. Our luxury apartments in Lenexa, KS are already making a splash now that pool season is officially underway. In the spirit of making this the best summer ever, the staff here at The Villas at Waterside wanted to give our residents (both current and future) the full run-down of all our top amenities that we offer so that you're getting the most out of your luxury apartment home. If you're looking for contemporary apartments that offer their residents plenty of sunshine-filled activities, then you've come to the right place.
Your Private Summer Oasis
The best part of living at The Villas at Waterside in Lenexa is that we spared no expense in creating the perfect summer oasis for our residents and their guests. Beyond your luxury apartment home is an entire world of outdoor activities and amenities for you to enjoy. Centrally located on our grounds is our resort-style pool which is surrounded by private loungers, cabanas, and expansive sundeck. You can lounge the day away under the sign while enjoying your favorite tropical beverage and hanging out with friends. You'll have a perfect tan in no time.
But just because the sun goes down doesn't mean the fun is over. The Villas at Waterside also features an elevated hot tub for late night relaxation. Or, you and your friends can enjoy the evening next to one of our gorgeous firepits.
And, of course, no outdoor area would be complete without the ability to cook up some BBQ. Located poolside, we also feature outdoor grills so that you can give your KC strip that perfect sear or cook up your favorite BBQ chicken recipe. When you're ready to dine, you can set up your summertime feast in our luxury outdoor kitchen area. If the poolside scenery isn't enough for you, we've got plenty of HD flat-screen TVs all around the area so you can catch a Royals game or favorite show while you eat.
Other Summer Amenities
As if your own private summer oasis wasn't enough, The Villas at Waterside offers plenty more to do so you can maximize your luxury apartment experience. Have some friends over for a little friendly competition in our dedicated outdoor game center. Enjoy some outdoor quiet time with your favorite summer read in one of our three gorgeous courtyards and hammock garden. We also have a regulation pickleball court for our more spirited competitors.
Have a furry K-9 companion? Pups love life here at The Villas because we offer them all the relaxing amenities they could ever want with our paw spa and bark park. We promise some truly Insta-worthy moments.
But Wait…There's More!
In addition to all that we've mentioned here, our luxury apartments for rent in Lenexa, KS offer all of our residents plenty more amenities that they can use all year round for fitness, work, and play. The Villas has an exclusive 24-hour fitness center that is fully equipped with brand new machines and free weights. The Villas also features a dedicated cycling studio for spin class and another multi-purpose studio perfect for yoga, kickboxing, aerobics, and more. If you're looking to stay fit all year round, this is the place to do it.
For those that want to experience the latest blockbuster movie or Chiefs game on the big screen, our media lounge is the perfect place to catch all the action. Or, if you want to host your own private dinner party, our chef's kitchen accommodates up to twenty guests. Your next potluck will be one that they won't soon forget.
And for those who are still on a work-from-home schedule, we've got you covered there, too. The Villas has both a dedicated co-working space and fully-equipped conference with speedy wi-fi connection. If you ever need a little more space or a change of scenery, you can bring your laptop down to the first floor and work remotely from there. This space also comes in handy for those that need to take video calls and need a more professional backdrop.
Book Your Private Viewing at The Villas at Waterside Today!
If you're shopping for luxury apartments for rent in Lenexa, KS, there's no better place to start than The Villas at Waterside. Our contemporary apartments are all brand new, designed in a sleek and modern aesthetic, and are all smart-capable for your convenience. That means you can control aspects such as your locks, lighting, and thermostat with the touch of a button on your Apple, Android, or tablet device.
If you like what you hear so far and want to see everything in person, the best way is to reach out to our team directly at The Villas at Waterside to schedule your private viewing appointment. We will show you our luxury apartments, our beautiful grounds, and all of our amenities.
Give us a call at (913) 521-9550 during regular business hours, or email us using the form on our contact page. A member of our team will get back with you as soon as possible.