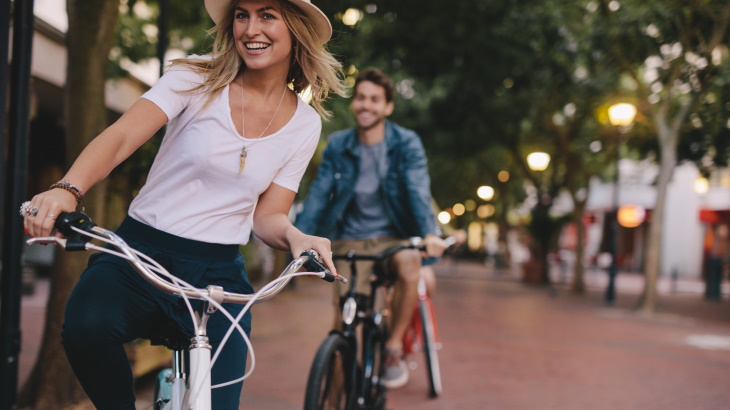 The Top Things to See and Do This Summer
With summer finally upon us, you may be asking yourself what there is to do in Lenexa outside of your luxury apartment home. As you probably already know, The Villas at Waterside is chalk-full of gorgeous amenities, from our resort-style pool to outdoor gaming area and our spacious courtyards. These are the features that elevate a regular apartment to a luxury apartment. We have done everything possible to make The Villas one of the most relaxing and beautiful places for our residents so they're proud to call it home.
But there is plenty to do and explore beyond our grounds and your luxury apartment home, and you don't have to drive all the way to Kansas City to find it. There are numerous parks, restaurants, and places to shop all right here in the beautiful city of Lenexa and surrounding Johnson County area.
Shawnee Mission Park
Clocking in at over 1,600 acres with a 120-acre lake, Shawnee Mission Park (7900 Renner Rd. in Shawnee) is the outdoor destination for Lenexa residents who want to get outdoors and enjoy the fresh air. You won't find another park in the area with the sheer number of amenities and things to do in the area. Shawnee Mission Park features an 18-hole disc-golf course, dog park, seasonal fishing with a full boat marina, playgrounds, picnic areas, shelters, and plenty of trails for hiking, biking, and walking. When you're not enjoying your life at your luxury apartment in Lenexa, KS, Shawnee Mission Park is the place to be.
Biking & Walking Trails in the Lenexa Area
For those that are looking to stay active in the great outdoors, the Johnson County area does not disappoint when it comes to parks, trails, and cycling paths. Mill Creek Streamway Park (19425 Wilder Dr. in Shawnee) features paths for hikers and cyclists with over 17 miles of total trail to explore. The trail itself is massive, extended through areas of Lenexa, Shawnee, and Olathe with eight different access points. They also have three additional miles of equestrian trail for jogging and hiking with picnic areas all throughout.
Located on Lake Lenexa, Black Hoof Park (9053 Monticello Rd. in Lenexa) is another Johnson County favorite amongst locals for its breathtaking water features. There's nothing better than a BBQ cookout while admiring the scenic views of Lake Lenexa. Black Hoof Park is 231 acres and features walking trails, playgrounds for the kids, outdoor grilles, and seasonal boating and fishing.
Finally, Little Mill Creek South Park (W 79th St. and Mullen Rd. in Lenexa) is a 21.6-acre park that includes manual natural wildlife areas in addition to its walking/jogging trail and multi-purpose sports fields. The fields can be used for soccer, softball/baseball, football, and lacrosse and are granted on a first-come first-served basis.
Local Dog Parks
No summer would be complete without the companionship of our furry friends, which is why Johnson County is the prized destination for dog owners. There's a lot of greenery to go around, and Lenexa and the surrounding area makes the most of it by offering several dog parks where you can let your pet off the leash. Shawnee Mission Off Leash Dog Park (7900 Renner Rd. in Shawnee) is the closest and highest-rated dog park in the vicinity of The Villas at Waterside in Lenexa. This 53-acre off-leash dog park features woodchip and natural trails along with a swimming area so your pup can doggy paddle around.
Or, if you want to keep things completely local, you can go right outside your luxury apartment in Lenexa, KS. We have a beautiful bark park for your pup to run around so they can get a little outdoor exercise. This is perfect for owners who need to take their dogs out without straying too far from home.
Restaurants & Shopping at Lenexa City Center
If you're looking for places to dine and shop with plenty of outdoor features and patios to lounge on, then Lenexa City Center is your destination. This recently completed development is absolutely pristine in its aesthetic with plenty to do. They offer several restaurants that are bound to appeal to any palette along with a multitude of shops, fitness centers, and the Lenexa Rec Center. You'll need plenty of time to explore it all, and it's only a short drive away from your luxury apartment home at The Villas at Waterside. If you're working from home or locally in Lenexa, this is the perfect spot to have a delicious lunch before powering through the rest of the work day.
Book Your Private Viewing at The Villas at Waterside Today!
If you're shopping for luxury apartments for rent in Lenexa, KS, there's no better place to start than The Villas at Waterside. Our contemporary apartments are all brand new, designed in a sleek and modern aesthetic, and are all smart-capable for your convenience. That means you can control aspects such as your locks, lighting, and thermostat with the touch of a button on your Apple, Android, or tablet device. Our luxury apartment homes offer more amenities than any other property in the Johnson County area.
Additionally, our contemporary apartments are located in the direct vicinity of all the city's major parks, shopping centers, and restaurants. You'll never have any shortage of things to do or see in the city of Lenexa.
If you like what you hear so far and want to see our luxury apartments in person, the best way is to reach out to our team directly at The Villas at Waterside to schedule your private viewing appointment. We will show you our contemporary apartments, our beautiful grounds, and all of our amenities.
Give us a call at (913) 521-9550 during regular business hours, or email us using the form on our contact page telling us you're interested in seeing one of our luxury apartments for rent in Lenexa, KS. A member of our team will get back with you as soon as possible.