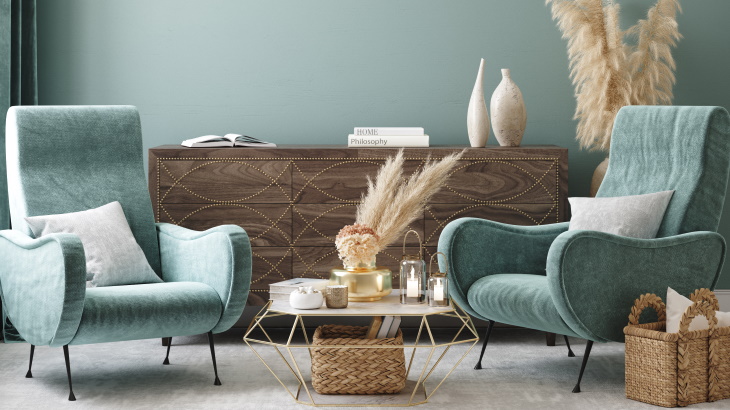 Style Your Luxury Apartment in Lenexa, KS to Your Liking
Your new luxury apartment is a blank slate. You might want to decorate it in a way that seems familiar, perhaps with leftovers from previous places you've lived.
But if you're looking for a fresh, new look that you've never had before for your fresh, new digs, then you'll want to look into the latest design trends for 2021 for inspiration. We've outlined a few here to make it easy for you to find the look you want in your apartment.
If you can't decide on a theme, it's time to visit your favorite home decor store to find out what you like. If you find something you adore, you can base your color scheme around it and will be happy with the result. You'll also find it easier to find pieces that go together.
For now, explore the latest trends to get a few good ideas for your new home at The Villas at Waterside in Lenexa.
Maximalist Design in Your Luxury Apartment
Maximalist design boldly mixes patterns and styles, harmonizing them with common shades. An eclectic blend of prints of all scales create "playful layers."
The goal, of course, is not clutter, but a cohesive design with much to look at. Large scale wall decor blended with smaller decorative details are ideal.
Yellow and Gray
For 2021, Pantone named two colors as their shades of the year. The first, Illuminating, is a bright, lemony yellow, and Ultimate Gray, a pale gray shade. Pantone says together, the colors represent strength and hopefulness.
Blending them into the design of your apartment creates an uplifting feel. If you don't like the bright yellow hue, you can always tone it down and get similar results in your abode.
Cottagecore and Similar Design
Cottagecore is a nostalgic, comfortable, "lived-in" design look that can be made glamorous and even luxe. You can add elements of cottagecore to a super modern apartment and have it blend seamlessly.
Combine vintage barware, gilded artwork, and other gold accessories with a muted, pastel palette in vintage prints, with natural elements like rattan and wood.
Incorporate Vintage Elements
Vintage pieces go nicely with new ones, and even with a modern-style luxury apartment. With plenty of contrast, varying styles look fabulous together. Strong colors and a less-is-more approach is the key to your design success.
Meaningful retro pieces are best done as a gradual collection. Collect pieces you love or that are family heirlooms. Add rich fabrics, statement lighting, and gorgeous glassware to modernize the look.
Global Style at Home in Lenexa, Kansas
After being essentially homebound for a year, it's a relief to incorporate travel into the design of your apartment.
Tropical leaves and florals bring the outside in, and earthy color palettes and natural textures from rattan and woven accessories add influence from around the world.
Think warm tones and nature that turn your home into a sanctuary with inspiration from Africa, India, the prairie, the jungle, and the forest.
Statement Headboards are Stunning in Luxury Apartments
Your headboard is the focal point of your bedroom. Bold colors and patterns that coordinate with your bedding serve as art and a place to lean your pillows. Go for something upholstered or painted, or perhaps one with a texture or architectural shape.
The bigger the better in the case of statement headboards. Bonus points if you incorporate the 2021 Pantone Colors of the Year or other design inspiration, like global-inspired prints or cottagecore.
Find Luxury Apartments Near You at The Villas at Waterside
The Villas at Waterside are a luxury living experience in Lenexa, near Overland Park and Olathe. The contemporary community includes 298 apartment homes with top-brand appliances, gourmet kitchens,full-size washers and dryers, and resort-like amenities including a pool with cabanas, 24-hour elite fitness center, and a residents-only dog park.
Your new home is just down the road from Oak Park Mall, with convenient access to large retailers, small businesses, and the highway, for easy commutes. And if it's an outdoor adventure you seek, you don't have to give that up in exchange for our location. The Villas at Waterside offers direct access to a one-third-mile walking trail and is close to Sar Ko Par and Little Mill Creek Park.
Choose a one- or two-bedroom apartment from 11 bright and airy floor plans. Call us at 816-608-7282 to make an appointment for an apartment tour and sign the lease on your gorgeous luxury home today.