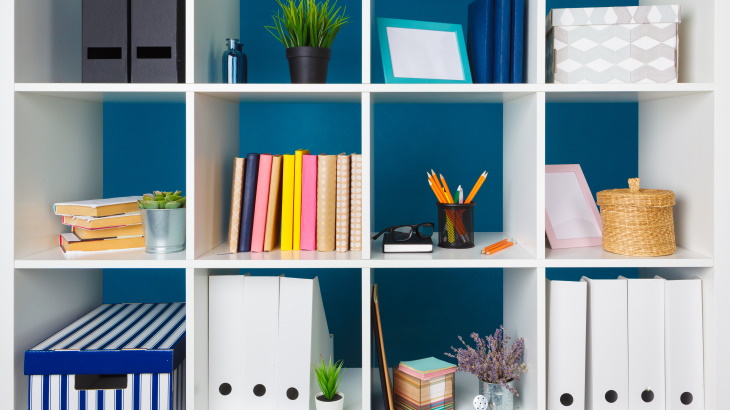 They Look and Work Great in our Luxury Apartments in Lenexa, KS!
Apartment-dwellers know one thing for certain: it takes creative planning to keep a home neatly organized. Even thoughtfully designed apartments with incredible storage options can fall into a state of disarray when you don't use apartment organization hacks.
Even luxury apartments at The Villas at Waterside need creative organization, just like any home. Finding an organization hack that works best for you may take some experimentation, but these tried-and-true ideas will help you keep your apartment tidy and functional.
Use Lazy Susans in Cabinets and Pantries of Your Luxury Apartment
When things get shoved into corners in your cabinets, they often become hard to find when you need them the most. It's actually pretty easy to put an end to this frustrating experience.
A lazy susan is essentially a tray that spins on a base, allowing you to reach objects at the back of your shelf; just rotate it toward the front of the cabinet!
Lazy susans come in a range of sizes, so you're sure to find one that will fit inside your cabinets. You also might find a lazy susan useful in your pantry to hold canned goods or condiments, or even under your kitchen or bathroom sink for cleaning supplies.
Use a Hanging Organizer as Storage Shelves
If you need extra places to stow board games, folded towels, and other small items, but you can't install shelving in your closet, add a hanging organizer instead.
These closet organizers are made of fabric, divided into sections, and hang on the closet rod with a velcro wrap. Because they're long and narrow, they don't take up much space that you may need to dedicate to clothing.
Get Creative with Tension Rods in Your Lenexa, KS Apartment Kitchen
The inexpensive curtain rods that wedge between the trim boards of your windows to hold curtains are also ideal organizers in your kitchen.
Hang tension rods vertically in rows in a base cabinet to organize your cookie sheets and other narrow pans. They'll make it easier to choose exactly what you need instead of stacking and unstacking as you cook.
A tension rod hung parallel to the floor inside a base cabinet is the perfect place to hang cleaning products. Hook the lever of your spray bottles over the rod to free up floor space in the base of your cabinet.
Spare Linen Storage
Keep your second set of clean sheets under your mattress, rather than taking up closet space.
Fold them long and flat and set them beneath your mattress, on top of your box springs. When it's time to change the bedding, you can simply slide them out and put them on your bed!
Organize Your Drawers
Dumping items in your drawers in your bathroom or kitchen can make them hard to find. If you have to shuffle items around every time you're looking for one specific object, you're likely to make an even bigger mess each time you open the drawer.
You can organize these small items by filling the bottom of your drawer with dividers, such as shallow plastic trays or boxes without tops. Sort like items together into the containers. When you open your drawer, you'll be able to see everything all at once, and the sides of the boxes will keep everything organized.
Shoe Organizers Hold Even More
The pocketed shoe organizers that you hang on your closet door doubles to organize basically any item that will fit into the pouches.
Not only can you use them for your footwear, but you also can fit cleaning supplies, packaged snacks, pet necessities, and more, without taking up precious shelf or drawer space. For working from home, you might find these organizers stow important office supplies quite handily.
Looking for an Apartment in Lenexa, Kansas?
Find one- and two-bedroom apartments at The Villas at Waterside, a community of 298 apartments with luxe finishes, gourmet kitchens, washers and dryers, and resort-like amenities. Your new home gives you convenient access to outdoor recreation, shopping, and dining, near Oak Park Mall and Sar Ko Par Park, on a quick route to the interstate.
Choose from 11 bright and airy floor plans when you tour our apartments. Call our leasing specialists at 816-608-7282 to make an appointment and sign the lease on your gorgeous new luxury apartment home.