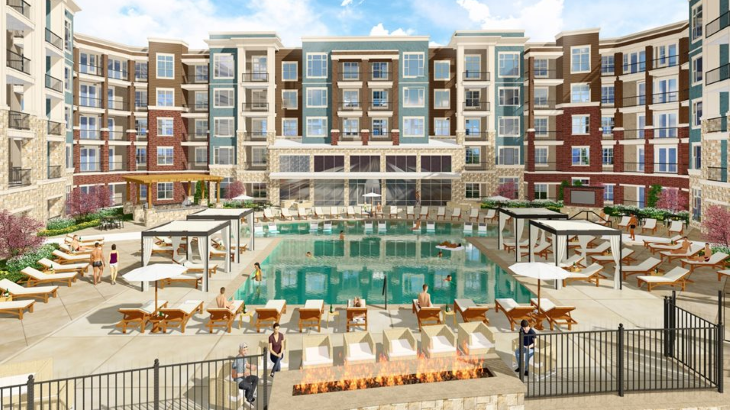 Luxury Apartments in Lenexa, KS for Your Upcoming Move
Now that Spring has finally arrived, we thought that we'd give everyone a big update on the amazing progress that we've made here at The Villas at Waterside in Lenexa, KS. As you may already know, The Villas at Waterside is a brand-new development of luxury apartments with floor plans ranging from studio apartments all the way up to spacious two-bedroom apartments that are over 1,600 square feet.
Our modern apartment homes include luxury features such as walk-in closets, patios with gorgeous views, and all the latest and greatest smart home features that can be controlled using your Apple, Android, or Alexa device. You will be able to control your thermostat, locks, and other aspects of your home with a touch of a button using your cell phone or Alexa device (provided at move-in).
After all this hard work of designing, developing, and building The Villas at Waterside, we are happy to finally be able to announce our official construction update of Spring 2021 to those looking for apartments in Lenexa, KS.
Completed Units Ready for Tours and Leasing
The Villas at Waterside has 118 units available for lease that future residents can now tour.
To see the floor plan of a specific unit, simply go to our Floor Plans page and enter the unit number into the "Do you want to search by Apt #" search box and then click "Go." You will be shown the number of bedrooms, bathrooms, square footage, and the rent range in addition to the floor plan visual.
Or, if you prefer to shop by floor plan number, the following chart shows how many units are available by floor plan style:
E1 – 11 units
E2 – 10 units
A1 – 24 units
A2 – 2 units
B1 – 21 units
B2 – 12 units
B5 – 24 units
C1 – 3 units
Future units on the bottom floor are also in the works for The Villas at Waterside that will be available for public viewing at a later date. Just like the options on upper floors, you can look at any of these floor plans by visiting the Floor Plans page and searching by unit number.
Additional Construction Ready by May 15th, 2021
Finally, on May 15th we have a full slate of property features and amenities that will be ready for use and viewing at The Villas at Waterside. This includes:
Main clubhouse
Fitness center
Resident media lounge
Resident co-working space
Parking

6 carports
12 detached garages
33 tuck-under garages
Book Your Private Tour of The Villas at Waterside in Lenexa Today!
In addition to getting a brand-new luxury apartment home that's sleek and modern, you'll also get access to a huge list of community amenities. During your private tour, we'll show you our resort-style pool with swim-up bar, outdoor lounge areas, pickleball courts, game center, bark park, and much more.
We hope that you are just as excited to see The Villas at Waterside as we are to show them to you. The next step is to reach out to us to schedule your private tour so that we can show you around. Simply visit our Contact Us page and provide a little info about yourself and request a tour in the message box. One of our team members will reach out to you to put something on the books. Or, you can call us at (816) 608-5760 during regular business hours.