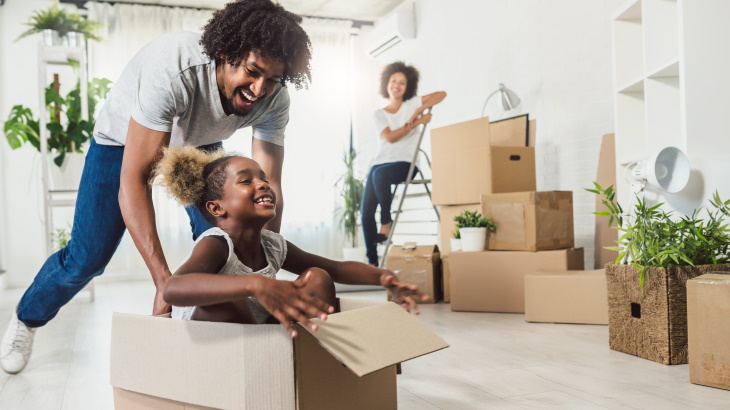 Five Ways to Make Moving into Your Lenexa Luxury Apartment Quicker and Easier
Moving into a new apartment should be an exciting time in your life. Think about it…you're about to have a brand-new space with a long list of amazing amenities. Summer will be here before you know it, which means sunny weekends by the pool and grilling outdoors. But first, you've got to get through your moving day (and all the days leading up to it).

Here at The Villas at Waterside in Lenexa, our team has a lot of experience with moving because many of us lived in apartments at one point ourselves. We've learned what to do – and perhaps more importantly – what not to do. Moving day can be stressful and hard on your bank account if you're not properly prepared for it, so we've put together our top tips for moving into a new luxury apartment. If you follow these, we can guarantee the process will be smooth sailing.

Tip #1 – Properly Exit Your Current Apartment or Residence
Before moving into a new apartment, make sure you've got everything squared away with your current residence regarding the terms of your exit. That means giving the proper written notice as per your lease agreement, cleaning for inspection, and making sure you turn over your apartment and mail key to the superintendent or leasing office. Ideally, you should try to leave the apartment in the best condition possible as that yields the best chance to get all (or most) of your deposit back.

Tip #2 – Be Meticulous When Packing
We can't say this enough…label everything when you're boxing it up. Even if you're writing something as simple as "kitchen" or "bedroom" on the box, this will save you tons of time and frustration on the backend. Having all your belongings in categories will allow you to know which boxes go in what rooms during the move-in process, which simplifies things in a big way for your moving crew.

This is also your opportunity to take inventory of all your stuff, and possibly get some of some things you don't need or aren't using. Many people come across clothes, paperwork, or random items they simply don't have any use for. Try to either donate these or throw them away. The more excess weight you can get rid of during your move, the easier it'll go.

Tip #3 – Hire Professional Movers (or at the very least, some helpful friends)
Besides putting down the first and last month's rent and your deposit, moving fees are easily going to be the most expensive line item in your moving tab. The benefit is that they're going to do all the heavy lifting and make sure that your stuff doesn't get dinged up or damaged. The drawback is that moving companies can rack up a hefty tab, if you're not careful. A little tip on saving money with moving companies: have all your items boxed up and ready to go so they're not doing it for you. Most moving companies charge an hourly fee, and boxing and taping can eat up a lot of clock time. It's best if you do the majority of that yourself so you don't get charged for it.

If hiring professional movers simply isn't in the budget, enlist the help of a few friends to help you out. If you don't know anyone with a big truck, you can always rent a U-Haul for the day.

Tip #4 – Make Sure All Utilities and Cable/Internet Are Arranged for Move-In Day
Most luxury apartments included water, trash, electric, and so forth as part of their package pricing, however, you as a resident need to make sure who is taking care of what. The last thing you want is to be caught off-guard and not have Internet for the first week of living in your new place.

Check with your new apartment and confirm the list of services they're providing. For the services they're not providing, you'll need to call the appropriate companies and get those arranged for set-up or a transfer of service from your old place. You can set your activation date for the day BEFORE you move in to ensure you're all set the moment you walk in.

Tip #5 – Take the Next Day or So Off to Unpack
Living amongst a bunch of clutter and boxes is going to get annoying pretty quickly, so make sure your schedule is clear to unpack and get your new place in order. Either try to move in at the beginning of the weekend or take some PTO. Unpacking is the part of the process where your new luxury apartment will finally take shape and you can start to see its full potential.

Move Into Your Next Luxury Apartment at The Villas at Waterside in Lenexa, KS
If you're in the market for your next contemporary apartment, The Villas at Waterside is a brand-new development in Lenexa, KS that is leasing to new residents. Not only do we have an extensive list of luxury services and amenities, every apartment home is smart-capable. All the thermostats, locks, and lighting fixtures can be controlled by your smartphone. We're also pet-friendly and have 24-hour on-call maintenance.

To see your next luxury apartment home, contact our team to schedule a full tour.