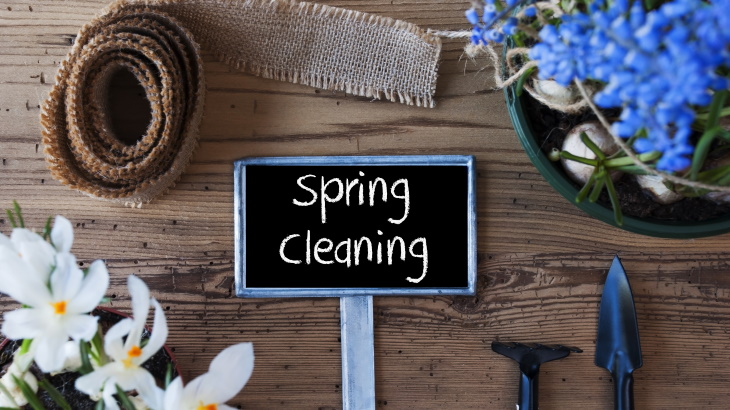 Ten Ways to Maximize Your Space and Eliminate Waste
With Spring officially upon us, there's never been a better time to conduct a top-to-bottom cleaning session of your luxury apartment. Apartment Spring cleaning is also an opportune time to take a personal inventory of all your things to determine what can stay, and what can be thrown out or donated to charity. By the end of the process, you should not only have an apartment that's spic and span, but hopefully, much more space in your closets, cabinets, and other areas typically used for storage of your personal belongings.

The following are ten things to do during your upcoming apartment spring cleaning session that are sure to maximize space and eliminate waste.

#1 – Dust Everything
Dust may not seem like a big deal, but the more it collects in your apartment, the more it affects the overall air quality. Trust us, you do not want to be breathing it in. When dusting, make sure to get all the top-facing surfaces, including the ones you don't see like the upper-side of your ceiling fans and the top of any bookshelves. The areas around electronics and entertainment centers also tend to get very dusty. Give everything a good once-over. We're big fans of the Swiffer duster because the dust particles practically leap onto the duster and stay there, which makes things nice and easy.

#2 – Clean the Floors
After you've dusted, a lot of that dust is going to be on the floor, which means you should probably vacuum and/or wet mop to completely get rid of it. A regular vacuuming is fine, but to really get that Spring-cleaning vibe, you should take things up a notch by using some foam carpet cleaner. This will give your carpet a deeper clean and help with any odors it may have retained.

#3 – Clean all Windows and Glass Surfaces
You may not actively touch your mirrors or windows, but that doesn't mean they're not getting dirty. Throughout the winter, your windows have more than likely accumulated far more grime than you realize. The best thing to do is go through and hit everything with Windex or your glass cleaner of choice and wipe them down. Additionally, opening the windows and letting outdoor air circulate through your apartment improves overall air quality and keeps things from becoming stale. Try to do this on days when the temperature is moderate.

#4 – Flip the Mattress
It's so easy to forget, but mattresses should be flipped every three to six months. This ensures that the mattress wear is being evenly distributed and that you don't get any dips or weak spots in one particular spot. Use Spring cleaning as an opportunity to flip and rotate your mattress to prolong its overall lifespan.

#5 – Rotate Out: Winter Essentials
Now that winter is officially in the rearview, that means you can rotate out all your winter essentials such as big, heavy blankets and clothing items like sweaters and bulky coats. Go through your closet and bedding and pack away all those items you'd need to keep warm. You shouldn't need them again until fall hits later in the year. If you see any winter items you don't think you're going to use again, set them aside for donation or give them to a friend.

#6 – Rotate In: Spring Essentials
While you're rotating winter fashions and essentials out, you can rotate in all your Spring clothing and décor. Shorts, skirts, tees, and light jackets can all get bumped up to the front of the closet queue. Spring also means you can bring out any patio furniture you previously had stowed away over the winter. Now that it's warm enough to sit outside, you can break out the chairs and outdoor tables to enjoy those sunny afternoons again.

#7 – Paperwork Audit and Filing
Most things are digital now, but you probably have more than a few hardcopies of important documents that came in throughout the year that are sitting around. Go through your apartment and collect all the paperwork. If it's important, categorize it and file it safely away in either a filing cabinet or storage container. This will come in handy later if you quickly need to retrieve it at a later date. If it's not important, shred it or safely dispose of it through some other means. Always make sure you protect yourself when getting rid of personal documents.

#8 – Cabinet Audit
Cabinets can (and often do) get very messy if you don't regularly clean them out. Make Spring cleaning the time that you go through all your main cabinets (kitchen, medicine, and otherwise) and look for items that you either don't use or are expired. If you come across makeup or cosmetics you've held onto for a very long time, it might be best to throw them away. Putting on old makeup can make your skin have a bad reaction, so just toss it in the trash if you're not certain about it. Same goes for expired medicine and medications.

#9 – Fridge Deep Clean
Spring cleaning is the perfect time to go through your fridge and chuck away all those old condiments that are far past their expiration date. You should also remove all your food items and give all the surfaces and grates a good deep-cleaning before putting them back in. This prevents bacteria and mold from growing.

#10 – Bathroom Deep Clean
This might be the toughest chore of them all, but nothing is more important than having a clean bathroom. There are several tips and tricks to cleaning that you can look up on the internet, but we tend to like the ones that avoid chemicals like ammonia and such. For instance, you can make a fantastic cleaning paste by combining baking soda and a half-water/half-vinegar solution. For those hard-to-reach areas such as in between tiles, use an old toothbrush for a deeper clean.

Come Tour The Villas at Waterside in Lenexa, KS
If you're in the market for your next contemporary apartment, The Villas at Waterside is a brand-new development in Lenexa, KS that is leasing to new residents. Not only do we have an extensive list of luxury services and amenities, every apartment home is smart-capable. All the thermostats, locks, and lighting fixtures can be controlled by your smartphone. We're also pet-friendly and have 24-hour on-call maintenance.

To see your next luxury apartment home, contact our team to schedule a full tour.