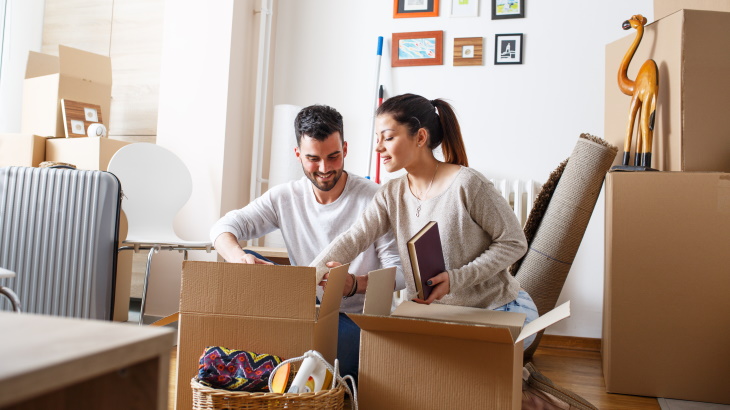 Your Official Checklist for Easy and Efficient Moving
Moving into a new apartment is an exciting experience. You're going to get a change of scenery, a nice long list of amenities to enjoy, and a brand-new community to get to know. Best of all, your new apartment is a space that will be completely your own. This is your chance to totally personalize your living area and make it what you want. But there's a lot that needs to occur before you unpack your boxes and start arranging the furniture. Moving into an apartment takes research, a good amount of saving, and figuring out the logistics of getting from point A to point B.
If you are currently on the hunt for a new luxury apartment in Lenexa and are wondering what the process is, use this checklist as your guide. The following tips will ensure that you have all your bases covered for your upcoming move.
#1 – Choose Your Location Wisely
When it comes to apartment hunting, the first thing that you want to do is narrow things down by location. This could mean picking an apartment that's close to work, your favorite hangouts, or down the way from where your close friends live. Ideally, you want to put yourself in a spot where your work commute is minimal and you won't have far to travel to hit the grocery store or other regularly visited locations.
#2 – Pick the Appropriate Floor Plan
Pick a floor plan that is right for you and your living situation. Are you going to have a roommate? Do you have a lot of furniture? Do you need extra space for a pet to run around? If you answered "yes" to any of these questions then it probably makes sense to pay for that extra square footage with a bigger floorplan.
Remember though, the bigger the floorplan the more that you're going to pay on a monthly basis. Make sure to factor that into your overall budget.
#3 – Read Your Leasing Agreement Carefully
It can be tempting to want to skim through your leasing agreement because it will be a lot of paperwork, but we're here to tell you, take it slow and read it thoroughly. This is a binding contract, so it's important that you understand it before signing your name to the dotted line.
Some key items to be aware of are the length of the lease, move in/move out dates, monthly rent, any late fees or penalties that can be incurred, rules of the property (quiet hours, guest policies, etc.), and how much notice you need to give before vacating the property.
#4 – Save Up for Rent, Deposits, Fees, and Utilities
Moving into an apartment is going to entail some upfront costs, and you need to be prepared for them. When speaking to your leasing office, make sure that they give you a detailed breakdown of the various deposits, fees, pet rent, and other charges they expect and when they'll need them by. This should all be broken down to the penny in the leasing agreement. Most places will want first and last month's rent.
Beyond that, you will need to set up service with any utilities or additional services such as water, gas/electric, trash, parking, and cable/internet. Many apartments will include some or all of these in the monthly rent, but it'll be on you to verify that.
#5 – Keep Saving Up…Moving Expenses Are Coming
Hiring movers is going to be the second big part of your expenses. You can do all the moving yourself, but if this is your first apartment and you've never done it before, we highly recommend hiring professionals. This ensures that your move is conducted efficiently and without any damage to your furniture and personal items.
Getting an estimate on professional movers is fairly straightforward. Most moving companies have an online form where you can provide them the details of your move so that they can come up with the expected fees. Since some of the cost hourly labor, plan on the final cost being 10 – 20% more than the estimate.
#6 – Plan Around the Weather
There's a big reason why Lenexa residents don't typically move in the winter, and that's because Kansas weather can be flat-out unpredictable. When it's bad…it's really bad, and the last thing that you want is to be moving during a snowstorm or subzero temperatures. This is why we recommend scheduling your move either in the spring or the fall. You won't have to deal with bone-chilling weather and you'll avoid the major heat waves that occur in the summer months.
#7 – Pack Efficiently, Safely, and Be Sure to Label Your Belongings
One of the final steps in the moving process is going to be packing. That means you're going to need cardboard boxes, bubble wrap for delicate items (dishes, glassware, etc.), and plenty of packing tape. Don't forget to label the outside of all of your boxes with a description of the contents. Otherwise, you're going to make things tougher on the backend when you have to sort through all your belongings.
#8 – Make Final Confirmations
It's never a bad idea to double-check with both your moving company and your apartment to make sure that everything is good to go for your scheduled moving day. Confirm dates, times, and make sure that you're going to be able to gain entry at your new apartment. Try to get the keys ahead of time if you can.
See Your Next Apartment at The Villas at Waterside in Lenexa, KS
If you're in the market for your next apartment, The Villas at Waterside is a brand-new development in Lenexa, KS that is leasing to new residents. Not only do we have an extensive list of luxury services and amenities, every apartment home is smart-capable. All the thermostats, locks, and lighting fixtures can be controlled by your smartphone. We're also pet-friendly and have 24-hour on-call maintenance.
The Villas at Waterside will be ready for move-in in Spring 2021. To see your next luxury apartment home, contact our team to schedule a full tour.