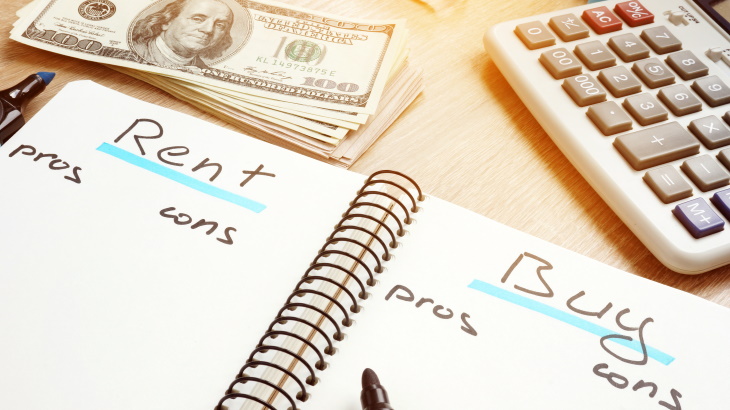 Four Advantages Renting Has Over Traditional Mortgages
For most people, owning a home is part of the American dream. However, that doesn't mean that home ownership is for everyone. Owning a home has its own set of responsibilities that can be overlooked right until the point that you're in charge of them. As a homeowner, you're going to be responsible for the upkeep, maintenance, and all the financial obligations that come with it.
This is why renting is such an attractive option for those who are not quite ready for homeownership. Not only can renting be a huge cost savings, but it can also cut down on your day-to-day responsibility and improve your quality of life. Here are the top four benefits of renting vs. owning.
#1 – Small Upfront Cost
If you know anything about shopping for real estate then you know that a down payment is expected upfront. The standard down payment on a home is around 20%, so even on a modestly priced home, you're going to be expected to come up with at least a few thousand dollars (or more) in order to get your foot in the door on a home purchase. There are ways to get into a home with a small down payment, but you end up paying for it on the back end in PMI (private mortgage insurance) and a higher interest rate.
With an apartment rental, you're going to have to come up with a deposit and probably the first and last month's rent. However, this amount of money should be far less compared to what you would spend on a home purchase.
#2 – Amenities
The homes in Lenexa aren't exactly known for having a wide selection of amenities. If you're looking for access to a pool, gym, or spa services, you're going to need to seek that off your property line. This is yet another area where apartment renting holds an advantage over home ownership. Most modern apartments feature several luxury amenities for their residents to enjoy. At The Villas at Waterside, we offer a resort-style pool with swim-up bar, outdoor grills, fire pits, a yoga and cycling studio, flex office space, spa services, outdoor game center, and private screening room just to name a few. The best part is that all these amenities are built into the monthly rent. If you're the type of person that uses a lot of amenities and luxury services, an apartment can end up saving you a lot of money in the long run.
#3 – Worry-Free Maintenance
If you buy a home you have to handle all the maintenance and upkeep yourself. That means shoveling the snow, raking the leaves, fixing the appliances, and handling any and all problems that may arise. If you move into an older home, you may find yourself neck-deep in a world of maintenance issues.
One of the big reasons that people prefer renting to owning is because they don't have to worry about doing any other maintenance. That means you never have to touch a snow shovel or piece of landscaping equipment as long as you're a resident. If a fixture or appliance goes out – not to worry – just call the front desk and they can put in a work order for you. At The Villas at Waterside, our team of maintenance professionals is on-call 24/7.
#4 – Flexibility of Living
Buying a home means that you're going to be in the same place for the foreseeable future. A lot can happen over the course of a 30-year mortgage. You may fall out of love with the house or the neighborhood, and getting out of a home can be just as tough as getting into one.
Yet again, renting has a distinct advantage compared to owning as it offers more flexibility to the resident. Most standard lease agreements last for one year, but they can be drawn up for six-month terms, quarterly, or even month-to-month. In the event that your circumstances change and you need to relocate, it's much easier to get out of an apartment lease compared to a home mortgage.
Come Tour the Villas at Waterside in Lenexa, KS
If your interest has been piqued by the many advantages of renting vs. owning, then let the team at The Villas at Waterside give you a personal tour so we can show you everything in person. Not only do we have an extensive list of luxury services and amenities, all of our apartment homes are brand new and smart-capable. All the thermostats, locks, and lighting fixtures can be controlled by your smartphone.
The Villas at Waterside will be ready for move-in in Spring 2021. To see your next luxury apartment home, contact our team to schedule a full tour.