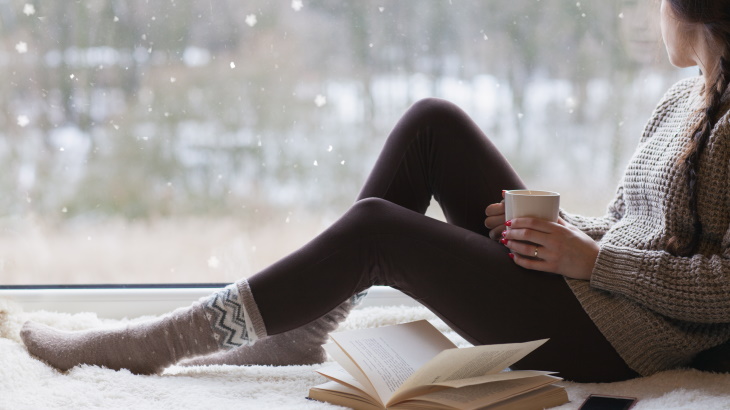 Stay Warm and Make the Most of a Snow Day in Your 1-Bedroom Apartment
Whether you've lived in Kansas your whole life or are searching for your new Lenexa luxury apartment, you may or may not know the extremes of a Midwest winter. When temperatures start to fall, so does the snow. And when your neighborhood becomes covered in a blanket of snow, you'll want to make sure you're comfortable and cozy inside your luxury apartment.
Snow days are a great opportunity to stay home and take a moment to relax. However, if you're often a stranger to free time, you might be unsure on how to spend your day off. Luckily, we've got you covered.
Consider these five ideas for spending a snow day in your one-bedroom apartment, courtesy of our Lenexa luxury apartments near you, The Villas at Waterside. Then, learn how you can make one of our new apartments for rent your very own.
#1 – Read a Book
If there's a book you've been wanting to read, a snow day is the perfect time to immerse yourself in the story as you watch the snow fall. Grab a cozy blanket, enjoy a warm beverage (like coffee or tea!) and enjoy the quiet. For even more bliss, cuddle up with your furry friend inside our pet-friendly apartments near you.
#2 – Organize Your Space
Use the snow day to reorganize, declutter, and clean your one-bedroom apartment. Once you've wiped down all surfaces and swept your floors, move on to areas you don't always get around to. For example, go through your closet and put any clothes you no longer wear into a donation pile. You might also decide to organize your kitchen cabinets or finally sort through that junk drawer. However you decide to tidy up, there's no doubt your space will be cleaner than you found it, boosting your mood and overall productivity.
#3 – Have a Movie Marathon
It doesn't get much better than spending a snow day on the couch watching your favorite movies, one after another. Get comfortable under a blanket, pop some popcorn, and relax as you watch a comedy, romance, or action-packed movie in the living room of your Lenexa luxury apartment. You can even binge-watch a new TV series instead, if that's more your speed.
#4 – Bake a Delicious Treat
One way to warm up your one-bedroom apartment is by filling it with the smell of something delicious baking in the oven. Baking is a great way to spend your free time, and comes with a tasty reward! Make a batch of your tried-and-true chocolate chip cookies or experiment with something new. Spending your day in the kitchen is sure to keep you busy and will instantly give your Lenexa luxury apartment a homey ambiance as the snow falls.
#5 – Enjoy the Amenities in Your Apartment Community
If you aren't quite a homebody and are looking for a way to get out of the house, explore and enjoy the community amenities offered by your apartment complex. At our luxury apartments near you, we provide plenty of amenities right outside the door of your one-bedroom apartment.
Stay active and get moving at our state-of-the-art 24 hour fitness center, or yoga and cycle studios. And after you've completed your workout, treat yourself to a massage at our exclusive day spa just for residents.
You can also make yourself at home inside our clubhouse flex space, complete with floor-to-ceiling windows that are perfect for admiring the snow.
Looking for a Lenexa Luxury Apartment to Call Home? Visit us at The Villas at Waterside!
At The Villas at Waterside, we're currently leasing new apartments for rent, making now more than ever the best time to find your new home in Lenexa. The choice is yours between our 11 unique and spacious floor plans!
Looking to bring your beloved companion along? No problem! Our pet-friendly apartments near you strive to create an outstanding home for not only you, but also your pet. We offer pet ownership policies that allow your pet to live alongside you in your new apartment home. For just a one-time pet ownership fee and a pet rent fee, your cat or dog can join you in your new home. No breed restrictions!
Schedule a tour of our Lenexa luxury apartments by giving us a call at (913) 521-9550 or sending us a message online. And if you can't wait to see your potential new home, take a virtual tour on our website.
Stay warm, and we look forward to hearing from you soon!