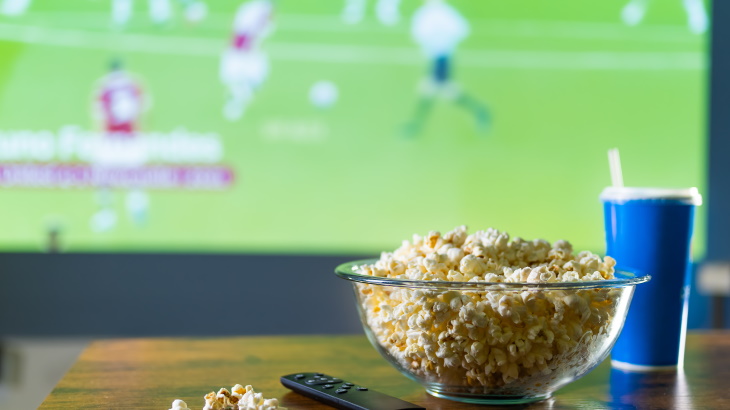 Celebrate Any Occasion at Your New Apartment Home in Lenexa
At the Villas at Waterside, we're always looking for a reason to celebrate. Hosting parties is fun, but can sometimes be difficult when you live in a one-bedroom apartment. You might find yourself wishing you had just a little bit more room.
When you live in one of our luxury apartments, you'll have access to a variety of community amenities to enjoy, including our party room. Our spacious party room is the perfect place to host a celebration, get-together, or just hangout with friends.
Keep reading to discover five different ways to utilize the party room at our luxury apartments near you. Then, explore the extensive selection of community amenities available at The Villas at Waterside.
#1 – Birthday Party
No matter how old you're turning, a birthday party is always a great way to celebrate. Invite your closest friends and family over for a day full of cake, balloons, and another year around the sun. Our luxury apartments want to be part of your special day, and our party room can ensure this year's celebration is the best one yet.
#2 – Watch Party
Whether you're wanting to cheer on your favorite team or enjoy the season finale of a show you've been closely following, our party room is the perfect place to host a watch party.
Create a beautiful spread on the spacious countertops found inside the room, or host a potluck and ask each of your guests to bring a dish to share.
#3 – Holiday Party
Looking for a place to celebrate the holidays this year? Look no further than the party room at your luxury apartment. Host a gift exchange, white elephant party, ugly sweater contest, or other festive themes that are only applicable once a year.
Or, invite your family over for a holiday feast. With plenty of seating options, there's no doubt even the largest of families will have a spot around the table.
To get into the spirit, decorate with holiday decor. Put up a Christmas tree, hang some garland, or show off your miniature Christmas village. With a few seasonal decorations, you can quickly turn the room into a winter wonderland.
#4 – Surprise Party
If someone in your life just had a major accomplishment, a surprise party is a great way to give them the recognition they deserve. Invite their friends and family over to congratulate them on their latest success, and don't forget the blindfold!
#5 – Housewarming Party
Once you finally get settled into your new apartment home, you'll want to show it off to the people who mean the most to you. The party room makes the perfect place to welcome everyone to your new luxury apartment.
Enjoy appetizers, play games, and of course, give your guests a tour of your new home. They're sure to be impressed.
Other Amenities to Enjoy at Your New Apartment Home
When you call one of our luxury apartments your own, you'll have a variety of amenities right at your fingertips. We offer comfortable and convenient amenities that allow you to escape reality for a while and live your best life.
Resort-style pool
Outdoor grills
Exclusive fitness center
Massage room
Media lounge
Outdoor green space
Community bikes
Outdoor gardens
And more!
Our pet-friendly apartments near you also provide amenities specifically for your pet, so they can love their new home as much as you do. Pamper them at our paw spa or play at the bark park located right inside the community.
Tour Our Luxury Apartments at The Villas at Waterside Today!
At The Villas at Waterside, we provide our residents with a huge selection of community amenities to enjoy. When you find your new apartment home, you'll have access to not only our party room, but our 24-hour fitness center, relaxing day spa, and so much more!
We're currently leasing new apartments for rent, meaning now is the perfect time to find your new home. We offer 11 unique floor plans, so you're sure to find one to call home.
We believe pets are an important part of life, which is why our pet-friendly apartments near you offer accommodations for pet-ownership. For a one-time pet fee and a monthly pet rent fee, your beloved companion can live alongside you in your luxury apartment.
To schedule a tour of our new apartments for rent, give us a call at (913) 521-9550 or send us a message online. If you can't wait to check out our luxury apartments, take a virtual tour.
We look forward to hearing from you soon!