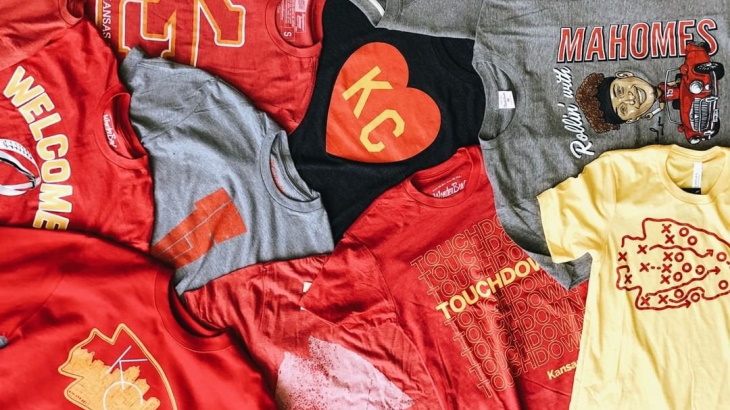 Check Out These Fan-Favorites Just Minutes from Your New Apartment Home in Lenexa
Football season is here, which means your Sundays are now spent cheering on your favorite team with people who mean the most to you. Whether you've been supporting the team through thick and thin or you just joined the bandwagon, you're likely always on the lookout for a new spot to enjoy the next game.
When you live in one of our luxury apartments at The Villas at Waterside, you'll be amidst all the action and just a short drive away from virtually anywhere in the metro. It's no secret that Kansas City is growing fast, and sometimes it can be difficult to keep track of all that's here. In this guide, we're sharing some of our crowd-favorite places to snag some awesome Chiefs merch and root for the home team.
Where to Watch
Sometimes your couch just doesn't do the trick and a lively atmosphere is just what you're looking for during gametime. Our luxury apartments near you are surrounded by a variety of sports bars and restaurants that are sure to get your head in the game.
Saints Pub + Patio is a vigorous sports bar that can be found within the Lenexa City Center. You'll practically get a front-row seat as you watch the game on one of their many flat screen televisions inside the restaurant. Or, when the weather permits, out on the outdoor patio. Start kickoff with a refreshing beverage or a bite to eat when you choose from a plethora of made-from-scratch dishes, including burgers, pizza, signature salads, and pasta dishes.
If you're looking for an upbeat environment to spend game day, you'll want to stop by Wallaby's Grill and Pub. Rep your favorite team as you indulge in a cold brew or one of their delicious American cuisines. We recommend trying the boneless wings or the Wallaby's cheeseburger!
Enjoy the game and a selection of craft beers on tap at Brewbakers Bar & Grill. With over 50 TVs and giant projectors, you won't ever miss a play. You also have the option to watch from their back patio. As for food, you can expect a variety of shareable appetizers and just about anything you're in the mood for – from salads to steak.
With multiple locations dispersed throughout the KC area, Johnny's Tavern makes the perfect laidback destination to cheer on the Chiefs. Their weekly specials on pub food and choice of both indoor and outdoor seating can instantly take your gametime experience to the next level.
Where to Shop
Sporting Chiefs gear is a great way to show your spirit and support your favorite team. When you live in our luxury apartments, you won't have to worry about the hassle of sizing and shipping that comes with shopping online. That's because there's a variety of merchandisers and local shops stocked with KC pride in the neighborhood of your new apartment home.
As the country's largest sporting goods retailer, Dick's Sporting Goods is your one-stop shop for game day apparel. Shop jerseys, hoodies, t-shirts, hats, and more for an unbeatable price.
At Rally House, you'll have access to a number of styles of Chiefs gear for the whole family. Buy your favorite player's jersey, or bundle up in a fleece for Red Friday.
When you shop the Arrowhead Collection™ at Charlie Hustle, you'll find a blend of vintage and quality clothing just in time for game day. Inspired by timeless designs and pop culture, shop an endless selection of locally-made t-shirts and other apparel.
Show your love for Kansas City and support the community at the Made in KC Marketplace. This gift shop also doubles as a cafe and taproom, meaning you can sip as you shop the work of over 200 local artists and designers. Here you'll not only find Chiefs Kingdom t-shirts and hoodies, but also wall art and other home goods.
Where to Play
And of course, the best way to truly immerse yourself in the excitement is to go to a game at Arrowhead Stadium. Grab some friends, and save a seat as you cheer on the Chiefs.
Or, you can get the inside scoop when you take a public, private, or game day tour of the stadium. This tour enables you to see areas that are usually restricted from the public, including the press box, the locker room, and even the sidelines of the field!
Find Your Home at Our Luxury Apartments in Lenexa
At The Villas at Waterside, our pet-friendly apartments near you make the perfect place to call home. When you make one of our amazing luxury apartments your own, you'll be just a few miles from all that Kansas City has to offer.
You'll see just what we mean when you take a tour of our new apartments for rent. Looking for a studio or one-bedroom apartment? We've got you covered.
To schedule a tour, call (913) 521-9550 or send us a message online. Or, if you have any remaining questions about our luxury apartments, we'd be happy to answer those, too!