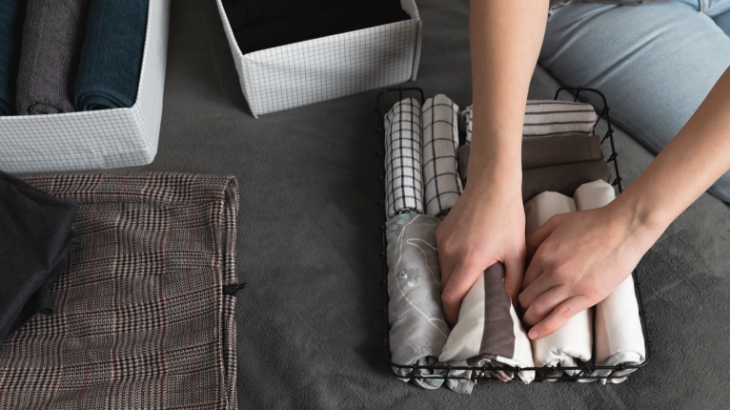 Discover More Ways to Organize Your Luxury Apartment in Lenexa
Living in a one-bedroom apartment has its perks. You have the whole place to yourself, and that means less square footage that you'll have to clean. However, one-bedroom apartments only come with so many storage options, and if you own a lot of stuff, you may be struggling to figure out where exactly to put all of it.
You shouldn't have to pick and choose what to keep in your luxury apartment. With these creative storage tips and tricks, you'll have no problem storing everything in your one-bedroom apartment.
1. Opt for Storage-Focused Furniture
You'll need furniture in your one-bedroom apartment anyway, so why not make it multifunctional? As you search for furniture to fill your new apartment home, keep an eye out for pieces with built-in storage.
Coffee tables that have shelves can be a great spot to store books, mail, and other knick knacks. Or, you can place these items in a side table that has drawers. Ottomans that open up can also be a useful place for extra blankets, making your space instantly tidier and clutter-free. It's also a good idea to purchase a bed frame with pre-installed drawers or a headboard with shelves.
The possibilities are endless, so strive for functional pieces of furniture to fill your luxury apartment.
2. Use Floating Shelves
Floating shelves are making their way into many luxury apartments in Lenexa – and for good reason. They're a great way to not only organize your items, but also display them. Like their name suggests, floating shelves are designed to appear to be floating on the wall without any support. The brackets of the shelves are hidden, making this illusion possible. Floating shelves are functional and look extremely clean in your space.
Use these shelves to show off your favorite photos, books, and whatever else you want to display. They're also great in the kitchen or bathroom – free up cabinet space when you display glassware and dishes or extra hand towels.
3. Hang Your Pots and Pans
Let's face it, no matter how many times you organize your kitchen cabinet filled with pots and pans, it doesn't stay tidy for long. If you're limited on cabinet space or just tired of constantly sorting your kitchen cabinets, try hanging them up instead.
All you need is a wall-mounted pot rack. You can then place it above your kitchen sink, stove, or island. You can even create more drawer space by also hanging up your kitchen tools, like spatulas or whisks.
This will not only give you more storage space, but it's also a trendy and easily accessible way to stow your kitchen supplies.
4. Hang Up Door Organizers
Door organizers aren't just for shoes – they can also be used for accessories, toiletries, medicine, and, well, whatever else you need to stow away. The best part is that door organizers can be hung up anywhere. Whether it's in the kitchen closet, or behind your bedroom and bathroom door, these organizers will free up any space you're looking to declutter.
5. Utilize Closet Space
Maximizing your closet space is one of the best and most efficient ways to create storage space in your one-bedroom apartment. After you've gone through your closet and donated the clothes you no longer wear, you can start decluttering and utilizing your extra closet space.
At The Villas at Waterside, our new one-bedroom apartments for rent are equipped with walk-in closets with surrounding racks and shelves to store your clothes. Hang up your clothes and organize them using storage bins. The ample shelving is perfect for displaying your extensive shoe collection or packing away any out-of-season clothes.
Your New Apartment Home at The Villas at Waterside
If you're looking for the perfect one-bedroom apartment composed of countless ways to store, find your home at our luxury apartments in Lenexa.
At The Villas at Waterside, we have three unique one-bedroom apartment floor plans, and we offer studio and two-bedroom apartments, too! You're guaranteed to find one that best suits your current lifestyle.
Visit Our Luxury Apartments in Lenexa!
Don't wait! Find your new apartment home at The Villas at Waterside. Our pet-friendly apartments near you are not only spacious, but offer you – and your furry friend – with a vast selection of community amenities to enjoy.
Tour our new apartments for rent online, or call (913) 521-9550 to schedule one in-person. You can also send us a message on our website if you have any questions regarding our luxury apartments in Lenexa.
We can't wait to hear from you soon!