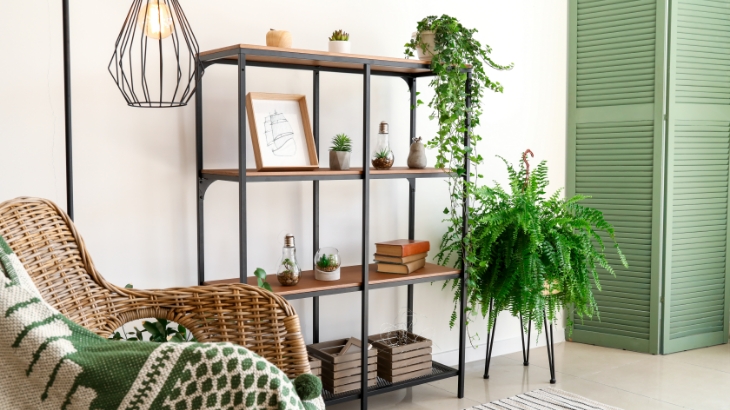 From Coastal California to Farmhouse Living, We've Got Ideas for Your New Luxury Apartment in Lenexa
While we're certain our luxury apartment amenities are nearly enough to set a modern, bold tone in our new apartment homes, a touch of your own personal interior design skills can make a big difference.

Here's your guide to our favorite Pinterest-worthy, Instagram-worthy, dinner party-worthy, apartment decor hacks that are currently trending. What's more, these tips won't break your budget, or take you away from your ever-important free time.
The Modern Farmhouse Look Can Transport a Luxury Apartment in Lenexa to the Country
Strikingly, a one bedroom apartment at The Villas at Waterside in Lenexa can become farmhouse chic in a matter of a few simple decor changes. Now you don't have to wait to own that farmhouse in the country, or hit the pause button on having friends and family over at your new apartment home, until it's perfect.

This design hack starts with the farmhouse table. With its wooden bench-seating and raw wood finish, this is a singular furniture choice that can do a lot of work toward achieving the farmhouse aesthetic. The warm, wood finish on these easy-to-find tables won't detract from the luxury apartment finishes and amenities, but seems to compliment your space, bringing a touch of "home" to a new apartment home.

When one of our team members inherited a farmhouse table from the turn of the century, he stained it in a matter of hours with the help of his fiancé's dad. He tells us that it seemed to transform his one bedroom apartment's kitchen into a space for getting together with friends for coffee, a place to serve brunch or hors d'oeuvres, or a go-to spot for a solid late-night snack after a night out.

Also consider some quick finishes like a solid-colored quilt or displayed glass bottles and raw wood kitchen items to lend a rustic, but not worn, touch to your luxury apartment at The Villas at Waterside in Lenexa.
California Coastal is a Luxury Apartment Dream When You're Landlocked in Lenexa
Our pet-friendly apartments, which are available as one bedroom apartments, and in other floor plans, can evoke beach life on the coast and memories – or aspirations – of walking the shoreline with your pup.

Ocean or beach-themed paintings can generate a color palette reminiscent of both sand and sea, and instantly set a carefree, coastal mood, sometimes known as California chill. Additionally, we're into cool-toned rugs that almost feel ocean-like beneath your feet.

Of course, we know you don't want to fall into tacky beach house decor with this hack, so investigate vintage or antique curated pieces to add to your coffee table, side table, and other shelves to your new apartment home.

Much like the modern farmhouse vibe, California Coastal can complement the clean, modern lines and finishes throughout our new apartments for rent, and will let you add your own personal touch on luxury apartment amenities we think you'll love.
Outdoors, Indoors
We know you want to wrap up your day at work to enjoy your evening or weekend. You want to feel like you can get away from it all in style and comfort. One way to give yourself a breath of fresh air is to bring the outdoors inside.

Potted plants of various heights and sizes can add new dimensions to your living space, and can serve as home furnishings when you're not down with knick-knacks, antiques, or other items that end up in a box once the trend has passed.

Plants are timeless, and can remind you of the natural beauty of our world, even when you're cooped up in the colder months, or during a long workday from home. Additionally, our luxury apartments in Lenexa are near several garden stores that offer a wide variety of plant life for your new apartment home.

Your new luxury apartment is a sanctuary for you, and, if you have a pet, it can be a sanctuary for them, too, thanks to our pet-friendly apartment policies at The Villas at Waterside in Lenexa. Not only does the plant life you select for your home ease your stress, provide fresher air, and gives you a way to commune with nature indoors, these benefits are wellness choices for your pet, too.
Make the Minimalist Choice in Your Luxury Apartment in Lenexa
When you're finally living in a luxurious, pet friendly apartment near you or you're ready to spread out in the one bedroom apartment you've always wanted, we know that pet life, and life in general, can get the best of you, and create more of a mess than you'd like.

This is where the minimalist style trend comes into play. Sticking with a resolution to declutter as well as a choice to make simplified decor decisions is not only efficient, but brings a kind of elegance to your space at home.

Consider the placement of a few items on your shelving as opposed to stocking them with your favorite things. You can also create a streamlined color palette to bring sophistication to your space – something you'll need when living in a luxury apartment in Lenexa.

Besides, we've already done a lot of the work for you. Take a look at our media gallery, and you'll see that our luxury finishes offer a completeness that over-furnishing could complicate.
Whatever You Decide, Your New Luxury Apartment in Lenexa is Your Canvas
Our luxury apartments offer lots of decision-making opportunities when it comes to designing your space with on-trend Pinterest-worthy aesthetics.

Give us a call at (816) 608-7843, or send us a message. We'd love to give you a tour of our floor plans, and talk through the kinds of decor choices that would best fit your personality and lifestyle.
We can help you imagine the stylish possibilities for a one bedroom apartment among other floor plans and options. We love a community member who brings their unique flair to The Villas at Waterside. It's what makes us a sought-after destination for luxury apartments in Lenexa.