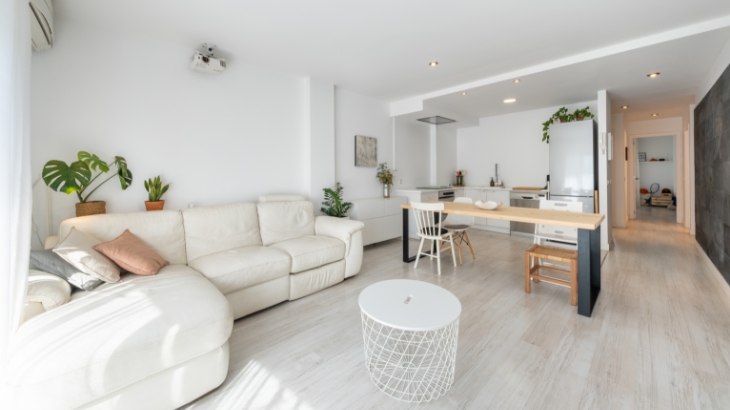 Make the Most of Your Space in Your Luxury Apartment in Lenexa
Arranging your furniture and deciding how to set up your space is difficult enough. This is magnified when all of your belongings are in one room, like a studio apartment. Luckily, there are many ways to make the most of your compact apartment and create more practical space. With a little creativity, you can utilize every inch of your new apartment home.
Follow along to discover the best ways to set up your studio luxury apartment in Lenexa.
What is a Studio Apartment?
Studio apartments are unlike any other way of living in that everything is housed in a single room, except for the bathroom. The main objective here is compact design. Think of it like an elevated, more advanced dorm room. Most studio apartments are no more than 700 square feet, and can be as small as 300 square feet.
When touring a new studio apartment for rent, expect to see a single large room with an attached kitchen. There's usually only one bedroom that seamlessly merges together with the living area. Because there aren't any walls to break up the space, you'll need to do it through your furniture. Strategic design can help you succeed in establishing and defining your space.
Setting Up Your New Apartment Home
Functionality and organization are key components of arranging your studio apartment. You'll want everything to have a place and a reason for being there. It's also important to use your furniture to separate the space. Without further ado, here are some clever and efficient ways to set up your new studio apartment:
Create a Seating Area
Because your bedroom is out in the open and not behind a closed door, this makes it more likely for your guests to take a seat on your bed during their visit. But do you really want everyone who comes over to sit where you sleep? Probably not. To avoid this, try incorporating a seating area into your living space.
A designated seating area will make your studio apartment feel more spacious, and keep your bedding clean. Furnish it with comfy chairs or a cozy loveseat. If you have guests frequently, opt for a couch that can pullout.
Repurpose a Closet
If you work remotely, you're going to need a place to do your work. Use extra closets and other storage spaces inside your new apartment home as a small office. Add shelving to make even more storage for books, papers, and whatever else you may need. You can also place a rolling cart under your desk for quick, easy access to the items you use most.
If the closet is missing a door, try hanging curtains to section off your desk from your luxury apartment. This will help separate work from your homelife, even if they occur in the same area.
Divide with Storage
Execute both functionality and organization when you divide your space using storage furniture. Think shelving units, tall dressers, or cabinets. Not only will this separate your living and sleeping areas, but you'll also have more places to stash your belongings, ultimately creating a tidier space.
These pieces can act in place of walls, instantly forming the illusion of different rooms.
Use Clear Furniture
Translucent furniture is a great way to visually create more space. This is because the clear lines don't interrupt the eye, allowing the room to seem cleaner and less-cluttered. Not to mention, clear furniture is currently trending, giving your new apartment home an updated and attractive edge.
Look out for a translucent coffee table or side table to expand your living room and give it more visual depth.
Mirror, Mirror on the Wall
Mirrors are one of the simplest ways to make a space feel bigger. As they reflect light and color across a room, we perceive more volume, making the space appear larger than it actually is. Mirrors can be added to virtually anywhere, making them an easy way to fill a blank wall space. You might also purchase a standing mirror to lean against the wall and open up the room! The possibilities are truly endless.
Find Your Luxury Apartment in Lenexa
At the Villas at Waterside, we have new studio apartments for rent just waiting to be filled! We offer multiple studio apartment floor plans, so all you need to do is select one that best fits your current lifestyle.
Our pet-friendly apartments near you make a spectacular place for not only you to live, but also your beloved companion. We want them to feel at home, which is why we have community amenities just for them! Pamper your pet at our Paw Spa or let out some energy at the Bark Park. For a one-time pet fee and additional pet rent fee, your furry friend can join you in your new apartment home!
Ready to see our new studio apartments for rent? Give us a call at (816) 608-7282 or send us a message to schedule a tour!
We can't wait to help you imagine all the possibilities of your studio apartment and assist you in making it your very own.